Nancy Skolos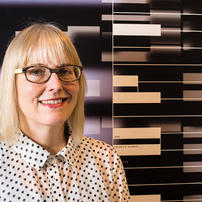 Nancy Skolos, works and designs alongside her husband Thomas Wedell. The vast majority of her projects are in partnership with him and aim to combine and collaborate photography and graphic design. She makes many collaged, three dimensional works of art that take influence from modern day architecture, technology, and paintings. Making geometric illusions and photographing them, combining her graphic design and typography skills later on. Their posters have been included in many graphic design collections. They've been featured inside the Museum of Modern Art, the Metropolitan Museum of Art, the Cooper Hewitt Smithsonian Design Museum, the Library of Congress, the Victoria and Albert Museum, the Israel Museum, the Museum für Gestaltung, and the National Museum in Poznan, so she her works have been displayed all around the world.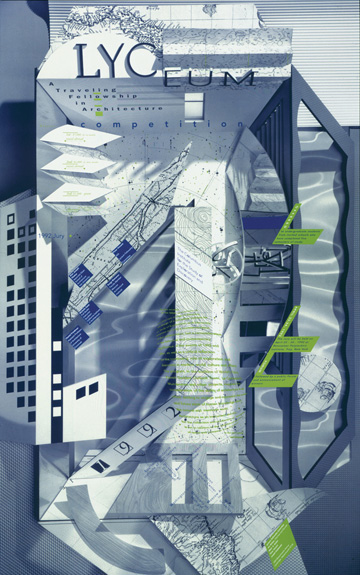 She was born in 1955, which means she is currently 67. In 1977, she completed her BFA degree in Design at Cranbrook Academy after transferring from the school she began her studies at the University of Cincinnati. She later attended Yale where she received her MFA in Design as well. Nancy Skolos and Thomas Wedell met while attending school together at Cranbrook Academy, where she was obtaining her degree in design and he was obtaining his degree in photography. They got married in 1979. They both opened up a studio exhibition in 1980, alongside Kenneth Raynor. Reynolds later left the studio in 1990. Them and the studio, after exploring many artistic paths, focused mainly on posters and graphic design. As said earlier, she and her husband loved combining physical form, photography, editing, and graphic design to create multimedia works of art. They combined their individual skills and their parallel interests to create amazing poster work.
Their studio's work has received many prestigious awards, including the gold, silver and bronze prizes in the Warsaw, Lahti, and Toyama Poster Biennials and Triennials. And their work has continued to be published in many exhibits like the ones I have mentioned previously. In 2017, alongside her husband Tom Wedell, they were both awarded the AIGA Medal. Their work has been credited for "pushing the boundaries of art, design, and technology with a distinctive vision to find connection among disparate forms."
Nancy Skolos has also published two books alongside her husband. They published the books "Type, Image, Message", in 2006, and "Graphic Design Process" in 2012. These books focused on combining Type and Image, which is a strong suit for both designers. The books have chapters on creating meaning and message and on creating a successful composition. The book covers are also done by the two designers in a way to exemplify the tools they are trying to teach to the readers.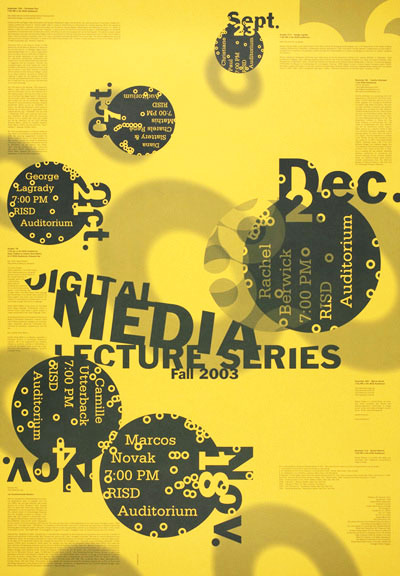 In 1989, Nancy Skolos began working at Rhode Island School of Design and later on in 1999, she became a permanent full-time employee as a professor of Graphic Design; she still works today. She works in the studio with students, in first year studios, typography studios, and courses on poster work. She has also created many posters for RISD advertising programs and courses.
Her work is pretty recognizable in both form and themes, after seeing so many of her pieces I think I could now pick out her work in conjunction with others. Her use of physical 3D form, photography, and graphic design is very unique and special to her and her husband's work.
Bibliography:
Dxri. "Nancy Skolos." DxRI, 24 Feb. 2022, https://www.designxri.com/team/nancy-skolos/.
"Nancy Skolos." RISD, https://www.risd.edu/academics/graphic-design/faculty/nancy-skolos.
Skolos, Nancy. "Nancy Skolos Wedelle Work." Skolos, http://www.skolos-wedell.com/swinc2017/2003_Digital%20Media%20Lectures2.html.