Soundarya Rajinikanth – Sivaji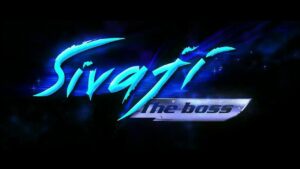 Sivaji is a Tamil movie directed by Shankar Shanmugam in 2007. This movie features famous actor Rajinikanth, and the title sequence was created by Soundarya Rajinikanth. I chose this project because I listened to a lot of songs from this movie and I felt nostalgic. The movie is about a wealthy software engineer who tries to set up a non-profit trust to benefit the people of India. When his old-fashioned methods are foiled by his competitor, he must become someone new.
Just like with Chandramukhi, the title sequence starts out with a very flashy tribute to Rajinikanth. Two years have passed since Chandramukhi, and the tribute is actually even flashier than before! In this version, the viewer watches a line of stars fly around the black screen before spelling out "SUPER STAR". After the tribute, the phrase "Sivaji" appears on the screen in Tamil in the style of an old film reel. The visuals are accompanied by old-timey music. Suddenly, a laser cuts through the old-timey visuals and displays blue text saying "Sivaji". The font of the text, as well as the blurred filter, make the title appear like a hologram. It really shows the contrast between the main character's two personalities.
Bibliography
https://en.wikipedia.org/wiki/Sivaji:_The_Boss