Qingyu Wu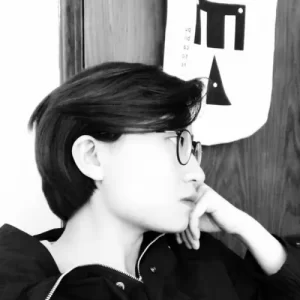 Changsha, China– Known for its deep historical significance to the Hunan Province and its large and boisterous machinery construction industry, this busy and mechanical town was once the spot where Qingyu Wu spent her childhood summers studying and learning about design and typography. The elusive designer was born in Changsha and spent most of her time in bookstores and libraries as a child, fascinated by foreign magazines such as "Vogue" and "Art and Design". She grew up in a very art-positive family–her mother working in the fashion industry for 20+ years and her father working as a city planner and florist. From a young age, her parents supported her interest in design, sending her to study painting and drawing as a child. It was difficult for her to find places to study design within her small town, but this made the secret spots she found even more precious to her. She was especially fascinated by the type and layout of the magazines she found. As she graduated high school, Qingyu Wu bid her parents goodbye to study abroad in the USA and receive her bachelor's in graphic design from Virginia Commonwealth University in 2015. Later on, she went to receive her Master's in 2d design at Cranbook Academy of art in 2017. 
Qingyu Wu currently lives in New York, where she works with a wide array of different companies and people on various different design projects. She recalls that ever since High School, she's been a huge fan of Pete Saville, a designer who worked with notable fashion designers and Factory records. She also notes that her style is inspired by a wide array of Japanese, Chinese, Korean,  European, and American designers. Her work aims to bridge the gap between many different cultures, fonts, typefaces, and styles in a way that turns nonsense into a beautiful design. Her work also seems to be heavily influenced by music. Qingyu identifies herself as a huge "krautrock"– A genre of experimental German rock music– fan, and originally became obsessed with the genre after listening to "Das Model" by the band Neu!. She fell in love with the way the band created both vintage and new-age sounds to their music, and this style is definitely seen throughout her work as well. When she found the band Chui Wan, a Chinese band that has a very similar style to krautrock, she was really impressed and was delighted to begin working with them and their record company, "Maybe Noise". 
Qingyu's style is a lovely amalgamation of all of her influences combined into one. Her work is most recognizable for its use of bright colors, geometric shapes, interesting compositions, and slick typography. One of the areas that Qingyu does exceptionally well is in combining both Chinese and English fonts to create beauty out of cognitive dissonance. She'll combine both English and Chinese fonts with space-age photography to create this perfect blend of vintage and modernity. Her work is so recognizable by the somewhat "weird" vibe that it gives off–It really transports you into a different world; a combination of precision and chaos that creates a gorgeous and dreamy product. 
Sources:
https://www.citylikeyou.com/new-york/people/qingyu-wu
https://radiichina.com/wu-qingyu-on-bridging-the-universal-and-the-specific-in-her-bicultural-designs/ 
https://competition.adesignaward.com/designer.php?profile=209995 
https://www.peopleofprint.com/graphic-design/qingyu-wu-q/#:~:text=Qingyu%20Wu%20(aka%20Q)%20is,and%20Parsons%20School%20of%20Design 
https://eyeondesign.aiga.org/how-the-disney-d-a-fashion-mom-made-qingyu-wu-the-designer-she-is-today/