Wild Design- West Side Story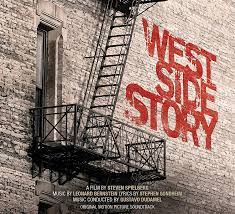 For my wild design I chose the West Side Story Soundtrack album cover, in this cover they take inspiration from the original soundtrack cover art and they take inspiration from the movie's premise/plot also. In this musical, many of the musical numbers and moments between the two leading characters happen on a fire escape; this fire escape is used as a prominent symbol of their strained relationship in both of these soundtrack covers.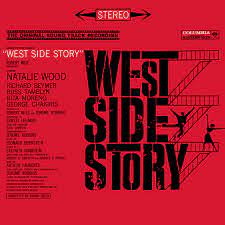 One thing I will say is positive about this cover art is that there is a lot less busy text in it compared to the original which basically listed the entire cast. The hierarchy of the poster also works better in my opinion, I think in this cover it is much more clear, the eyes are automatically drawn to the title and then they go to read the rest of the text at the bottom. In the original there were so many places your eye could go and so much information that it does look a little busy and the new cover solves that problem.
However, the cover in my opinion isn't as "theatrical" or true to the genre of broadway. I personally, despite the obvious errors in the original, prefer it to the new and "improved" one. I like the stark red and black as it is both simple and alludes to how dark the musical gets despite it being a musical in the first place. I think the new cover art looks a bit cheesy and reads as a high school or amateur production. West Side Story is a classic, and it is set in a time that isn't modern. I think sticking to a more traditional broadway playbill style would have been more beneficial in creating cover art.