Music Identity by Luke Hayman and Pentagram
In 2017, while working at Pentagram, Luke Hayman collaborated with American Rock band 'The National' to design the album cover and promotional material for the record 'Sleep Well Beast'. The Grammy nominated album cover features a picture of the rural New York State recording studio built on the property of one of the band members. This five sided house-like structure inspired by the barn in Hudson, New York where it was recorded is used as a promotional logo and has become part of the mythology of the band.
This project goes slightly beyond the normal marketing propaganda, as Pentagram used this graphic across not only the typical tie-in merchandise like T-shirts and posters but also much more niche paraphernalia such as staplers and tape dispensers. The visual identity is centered around a "retro, slightly monotonous" vibe with a blue and white color palette reminiscent of 1970's corporate branding. The inclusion of this type of merchandise serves to further the band's mock corporate identity and give a cold, abstract, zine-like feel.
Alongside the graphics and posters, the ad-campaign included transmission style videos that appeared on billboards in major cities across the world. For Luke Hayman this project, though quite large in scale, likely comes as a bit of a side project. Two members of the band are former designers, and the bassist worked at Pentagram so the two groups already had a close relationship before the commissioning.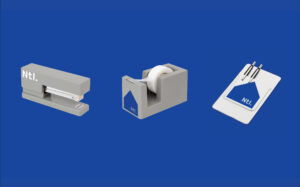 Sources:
https://www.dezeen.com/2017/09/08/pentagram-designs-corporate-visual-identity-national-sleep-well-beast-album-cover/