Pt. 2.2: Ad Campaign by Franco Grignani
In 1952 Franco Grignani had partnered with A & L, a printing and advertising company that gave him unprecedented freedom with his designs. During this partnership, a pharmaceutical company called Dompé asked Grignani to do a series of advertisements for them, because they valued his work so much. The owner of Dumpé (coincidentally also named Franco), even gifted the Grignani family with a brand new Fiat as a show of gratitude for this project. Franco Dompé had originally taken an interest in Grignani's work and appointed him as Artistic Director of a magazine called Bellezza d'Italia (Beauty of Italy), that was aimed at medical professionals and their family, but did not include medical contents, instead it offered escape from the harrowing world of medicine, and showed readers tales of travel, fashion, art and sports.
This project was a way of subtly advertising pharmaceutical drugs in a non-invasive way to doctors when they were off the clock, so naturally Dompé had Grignani design these advertisements as well. This series contains advertisements for "Artrosil B" an arthritis medication, but instead of highlighting the pain and suffering of this condition, Grignani put his experiments in motion and movement photography to work as a way to display what the reader's life could look like without arthritis. These ads include images of athletic people mid-motion, with blocks of color and fragmented shapes. It's as if he's showing a reader their future, but because they haven't bought this product it's distorted and out of reach.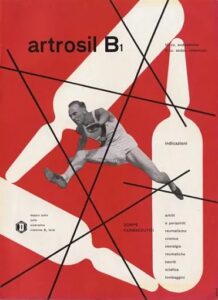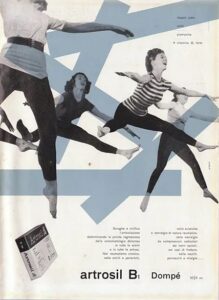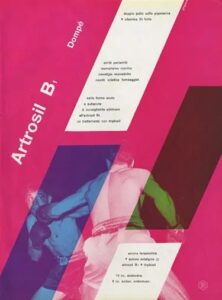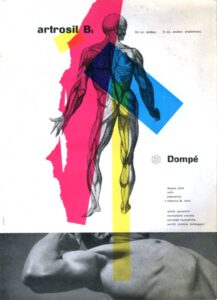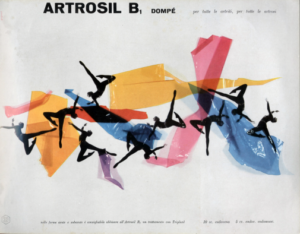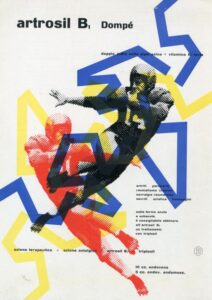 Sources:
Bellezza D'Italia, Fondazione Dompé, https://www.fondazionedompe.org/en/bellezza-italia.
Camera, Emiliano. "Dompé." Franco Grignani, 27 Feb. 2022, https://www.francogrignani.info/dompe/.