Soundarya Rajinikanth, a Product of Nepotism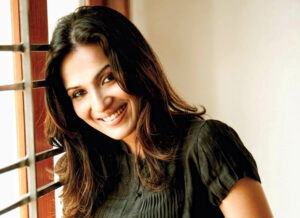 Soundarya Rajinikanth, born Shaku Bai Rao Gaikwad, is a graphic designer based in India. She was born in Chennai on September 20th, 1984 to Indian film producer Latha Rangachari and actor Rajinikanth. Rajinikanth, Soundarya's father, is a very well-known actor due to his exaggerated mannerisms and roles in many famous Tamil movies. He has won many awards, including the Padma Bhushan, an award given by the Indian government.
It is very common for Tamil people to use their father's first name as their last name. This was done in a movement to break away from the caste system present in India. Instead of listing their caste as their last name, they use their father's last name instead, instantly removing their background. What is interesting about this is that by using her father's name, Soundarya actually gains an advantage over others. Rajinikanth is very famous throughout India; he was able to provide a lot of connections for Soundarya, especially since a large portion of the Indian film industry relies on nepotism 😐. 
Soundarya went to school at Ashram Matriculation Higher Secondary School and got a bachelor's in graphic design. This would be completely fine, but her mother founded the school Soundarya went to for her education. Of course, this does not mean that she did not try or that she did not deserve the education that she got, but she definitely received a lot of help getting into a good school with a lot of resources. Not only that, but her first major directing project, Goa, was given to her through her father's recommendation. Because Rajinikanth is a very well-respected actor, people are more likely to give Soundarya opportunities. In fact, on many of the biographical pages about Soundarya, they write that the reason she is famous is that she is Rajinikanth's daughter and not because of her own work.
Soundarya's work consists of designing film titles, film title sequences, and directing movies. Many of these works are done in collaboration with her father, Rajinikanth, which again shows how reliant she is on her connection with her father. Her works match the bold and over-the-top nature of Tamil movies with flashy title sequences. One noticeable trait about her works is that they appear very dated. Most of her graphic design work was done between 1999 to 2007, and it shows with her use of detailed shading on the letters and her work with 3D models, which will easily look outdated in today's age.
I chose Soundarya because I was interested in researching an Indian designer, but I ended up finding very little information about her actual design career. It seems as though people are more interested in her dating life and her interactions with her father instead of her work. I suppose this is because she is a product of nepotism, but it would have been nice to see her give more of her thoughts on her works through interviews or social media. Instead, she mostly posts selfies with her sister and her son.
Bibliography
https://en.wikipedia.org/wiki/Soundarya_Rajinikanth
https://www.imdb.com/name/nm1983400/
https://medium.com/lessons-from-history/why-dont-tamil-people-have-last-names-e68327e9444c