Crispy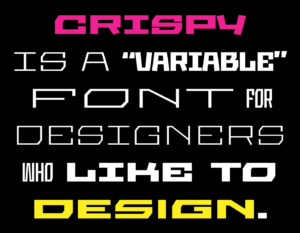 Another one of Ayegi Archers' notable works has to do with the non-profit organization that he co-founded known as DO or Design Objectives. With this organization, he was able to design a typeface for his client Krs Joseph that founded the software design company CRISPY. This was one of his bigger client projects that he was able to develop a font for. He wanted to go for an older electronic computer feel, with bolder, blocky letters that varied in thickness. He ended up using RoboFont to make the typeface and played around with letter weight to craft the final prototypes of the font. It's still in the works but he is hoping for it to be released by Google soon. He is still working on the final fonts but hoped to release the final font sooner rather than later. This project is notable to his career as he is branching out to bigger corporations. He runs a studio in Trinidad and Tobago where hopefully he can take on more high-profile clients. This project has helped advance his career and carry out his mission of helping out black designers and artists. Along with the DO he is inviting more graphic designers from Trinidad and Tobago to join the industry and diversify the field. 
Archer, Agyei. "Crispy: Finally, Some Client Type Design (Update)." Medium, Medium, 18 Jan. 2018, https://medium.com/@agyei.design/crispy-finally-some-client-type-design-57a2495668f1.
"Unqueue for Business Owners." Unqueue for Business Owners, https://unqueue.app/.