1984 Apple & Chiat/Day
This advertisement, created by Steve Hayden, Brent Thomas, and Lee Clow under Chiat/Day Design Agency aired publicly for the first time during the Superbowl. Internal personnel at Apple considered selling their air time due to the belief that this advertisement would be too controversial. After realizing that they would only be able to sell a thirty second slot of airtime rather than the full minute thirty seconds, they decided to go through with it. 
This advertisement opens with a line of men marching and transitions to feature an athletic looking woman running with a sledgehammer. As the advertisement continues, we see she is being chased by what looks like guards or policemen. The noise in the background is a male speaker and the continued marching. The viewer is able to detect the source of the voice: a large screen broadcasting a man giving a speech to a large crowd of what looks like soldiers. The woman runs up to the screen and smashes it with the sledgehammer creating an explosion and a windy effect that moves outward onto the crowd. The following message reads 'On January 24th Apple Computer will introduce Macintosh. And you'll see why 1984 won't be like "1984."'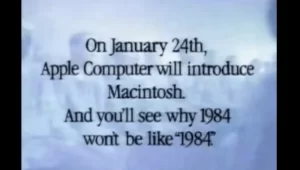 Once this advertisement aired, a new era of commercial advertising for the Superbowl was introduced. Not only would ads from here on out be informational, but other companies wanted to captivate an audience in the same way Chiat/Day was able to for Apple. The ad became so popular that it received millions of dollars worth of free publicity for Apple, the commercial was rerun on multiple news programs that same night, and the commercial won several awards. 
Here is a link to the advertisement: https://www.youtube.com/watch?v=KBmlMQ5GG3I
Source: https://www.history.com/this-day-in-history/apple-1984-commercial-airs-during-super-bowl-xviii