Spreadin' The Luv – Post 1 (Who's Who in Graphic Design)
One of Paul Sahre's works that I will be talking about is his project titled "Spreadin' the Luv." This was a project that he made once and then brought back in 2017. This was created in collaboration with his deaf brother Greg Share who helped create the idea for the symbol while Paul took charge of the actual design and its art direction. The symbol for this project was based on the way that "I love you" is signed in sign language. Along with the sign, the symbol was also accompanied by a small heart on the top left of it. Paul would then use the symbol and put it on things like patches, stickers, and buttons.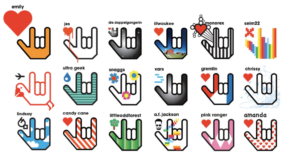 Paul also encouraged people to take this symbol from a website and add their own spin to it so that then they could share it with the world and be able to place these symbols around the world like on walls, lamp posts, and anywhere else they would please. Paul said that the symbol is used to help encourage "the spreadin' of good will and good vibes all over the place." The overall purpose of this project was to help spread positivity in this world that can seem full of negativity.
Bibliography:
Sahre, Paul. "Office of Paul Sahre." Spreadin' the Luv, http://paulsahre.com/spreadin-luv/#about.
"Spreadin the Luv." Spreadin the Luv, https://spreadintheluv.com/.