2Dads Campaign – Domenic Lippa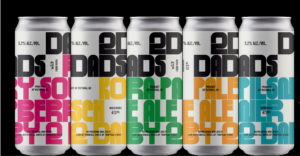 Brewery company 2Dads reached out to designer Domenic Lippa of Pentagram to bring about a typographic element, and apply it to their visual elements and upcoming campaign. This is one of Lippa's latest works and was made in November of 2021. The goal of 2Dads' branding was to be equally refreshing for both experienced and amateur beer consumers, while also distinguishing itself from the competition in what has become a very competitive industry. Founders at 2Dads explain, "…We wanted a design that could stand out and look fantastic, and also really simply explain what's in the can and who made it — two dads." The text is bold, somewhat playful, uppercase, and wraps around its object in what looks to be a very modern font that incorporates odd spacing around the can. Big and bold text is accompanied by small text that gives statistical facts and information about the content in the beverage and is seen to be in the forefront of the larger text, using color contrast to make itself very visible amongst the brand's larger typography. Lippa's work here I believe is one that will be seen by the general public at large and adds yet another mark on the design world.
Source:
McLaughlin, Aimée. "Domenic Lippa's Refreshing Identity for Canadian Brewery 2dads." Creative Review, 26 Nov. 2021, https://www.creativereview.co.uk/2dads-brewery-identity-domenic-lippa/.