Who's Who in Graphic Design – Sara De Bondt
SARA DE BONDT
Sara De Bondt is a  graphic designer, teacher, researcher, conference organizer and publisher from Leuven, Belgium. Her career began at the Sint-Lukas art college in Brussels during a fine art exhibition. She met an artist who didn't believe graphic design was a fit for her but she decided to pursue this anyway. De Bondt stated  "When I went to Sint Lukas I bumped into Jef Winnepennickx, a teacher at the school. He was the father of a girl I was taking acting classes with. He said that graphic design was nothing for me, because I was too shy." (Artic Papers). She went on to say that this professor was the one who ended up inspiring her the most. During her time at this art college, she succeeded and got good grades which motivated her to continue this path. 
Her education didn't end there as she decided she was going to study abroad in Spain during her senior year. This trip changed everything for her; De Bondt felt that all her instructors had left out something major in all of her lectures. 
Social responsibility. 
Jan van Eyck's books inspired her to do this which set her up for her next task. 
After returning from this trip, she decided she was going to write her dissertation on the social responsibility of graphic design. She moved to Holland to study some more at the Jan van Eyck Academie and received instruction from renowned teachers including "Karel Martens, Irma Boom, Rick Poynor, Michael Rock, and Armand Mevis" (DesignerJournal). 
In terms of her internships and work experience, De Bondt began working at Total Design in Brussels but was essentially an assistant and didn't get the experience she wanted. It made her realize that there were key elements of design that weren't taught to her such as typography; De Bondt calls these "the bricks of a house" as they are the basics for making a text accessible (Artic Papers). One of her next roles after her time at total design came after moving to London and meeting Daniel Eatock who worked with her at Foundation 33. 
By 2003, De Bondt had set up her own studio based in London. At this studio she created her portfolio and some of her most famous projects. Her clients include "Phaidon Press, The British Council, V&A, MIT Press, Camden Arts Centre and Black Dog Publishing" (DesignJournal). Besides her role as a designer, De Bondt also shares her knowledge and experiences with others through workshops. She hosts this type of event all over Europe at schools just like the ones she attended.
De Bondt has such a unique angle and approach to how she creates her work which has earned her respected reputation. She is known for incorporating color gradients and "inventive typography" which makes her work stand out. Because of these features, she avoids the use of complex imagery and lets her bold colors and typography take center stage. 
She does not have a favorite type of material for her art since she enjoys many different ones to add variety to her work. As a graphic designer, her favorite tool for creation is her MacBook Pro. 
Her latest work includes a book with interviews about the Belgian graphic design industry. (Picture below)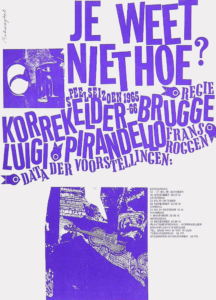 Citations:
TypeRoom. (n.d.). Off the grid: Sara de Bondt documents the origins of Belgian Graphic Design. TypeRoom. Retrieved April 5, 2022, from https://www.typeroom.eu/off-the-grid-sara-de-bondt-documents-the-origins-of-belgian-graphic-design
Dj. (n.d.). Designers Journal. Retrieved April 5, 2022, from http://www.designersjournal.net/jottings/designheroes/heroes-sara-de-bondt
Sara de Bondt. Sara De Bondt – Paper Passion – Arctic Paper. (n.d.). Retrieved April 5, 2022, from https://www.arcticpaper.com/inspiration-news/paper-passion/2017/sara-de-bondt/