Art Walk 2021 Poster – Robynne Raye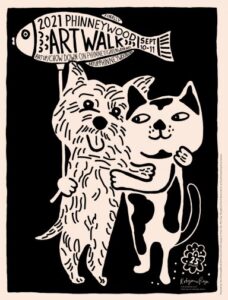 This poster is a design that Robynne Raye made for the 2021 PhinneyWood Neighborhood Association Art Walk in Seattle. The walk was originally supposed to take place in 2020 but it was the start of covid-19 and the whole quarantine protocol. It was going to be their 25th year for this showcase. There are 70-80 small businesses that participate in this event annually. Robynne Raye has participated in making the posters for this event for 26 years. It is a 20 x 26-inch poster that is a limited edition for this event. It is a silkscreened poster on 80lb French Speckletone Cream Paper. Robynne wanted to make this 25th year for this event special. On the poster depicted is a cairn terrier, her dog Winnie and her calico cat Lucy. Her dog passed from heart failure and this was a way to honor Winnie. When Raye was just dating her husband and about to move in with him, he was worried that the cat and dog would not be compatible. They got along so well and the relationship they had with each other made their bond so close. Robynne wanted to portray the meaning of friendship and the happiness you get when you are around friends. This is als0 to show that even through the pandemic, we can get through it. Another underlying meaning is that there is still a divide between people due due to racism and that conflict needs to be resolved.
King, Ana Maria. "Phinneywood Art Walk : The Big One." PNA, 4 Feb. 2020, https://www.phinneycenter.org/calendar/artwalk-big-one-21/2021-09-10/.