"Japan" – Kazumasa Nagai
Kazumasa Nagai's, "Japan" a ~1980's series, highlights the beauty that one can find in nature, with the use  of bright colors and shapes.
These posters show the change his style took in the 1980's. Before, his style was purely modern, using more lines and simple shapes to convey whatever message imbedded within them, but he began to feel bored and burned out only creating in that style. Once he began drawing animals and plants by hand in his posters, they became a staple within his style. Animals often have a symbolic meaning within traditional Japanese design methods. These posters skillfully show how Kazumasa Nagai was able to merge his modern style with traditional Japanese styles.
The use of color and shapes helps to bring more attention to the animals themselves. In Figure A, the amphibian like animal is the centerpiece, and this is further emphasized by the grey of the background. Grey is a dull color and with the almost plain background, it does not stray the viewers eyes from the amphibian.
In figure B, the use of shape and color here kind of plays with the eyes. This is a fish in water, and the circles of the blue background makes the "water" bubbly and a little eye straining when contrasted with the fish. The colors on the fish are very muted when compared to the background and orange flower. Although it is difficult to view the fish, I think it is a good way to get the viewer to focus on it instead of the bright orange flower.
 Figure A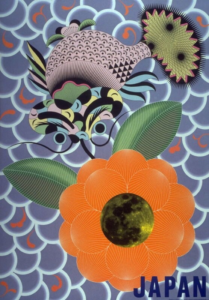 Figure B
bibliography:
https://www.juxtapoz.com/news/design/poster-art-from-the-incredible-kazumasa-nagai/
https://art.famsf.org/kazumasa-nagai