1000 Dog Portraits – Robynne Raye
Robynne Raye was the author and curator of this collection for the book, 1000 Dog Portraits. This book is comprised of artwork by different artists around the world. This shows the different ways a dog can be drawn through color, breed, and style. She made this piece happen during the era of her lawsuit against Target and Disney. 1000 Dog Portraits was published in April 2014.  She saw that some of her drawings were on merchandise at the store. It was a difficult time for her and her studio was going through financial loss. The defendant's lawyer initiated an argument by saying "You know, there are only so many ways to draw a beagle" (Popova). This was the beginning of a beautiful collection of art pieces from various artists.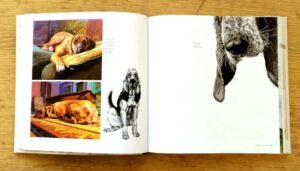 This project for Raye was only supposed to be about beagles but then she branched off into doing other breeds of dogs. There is not only one way to draw a dog but multiple. It is one of the most important pieces that she has made during her lifetime and career. It has gained so much popularity due to Raye being moved by one statement. This was an opportunity for artists in the community to send in their work to be published. This provided an opportunity for artists to share their interpretations of what beagles or dogs look like. The point of this collection is that there is not only one way a certain thing looks. One way that an artist draws is different from the way another artist draws. This was a personal project of Robynne Raye's. There is a mix of different mediums from all of these artists.
Popova, Maria. "1,000 Dog Portraits: How a David-vs-Goliath Copyright Nightmare Became an Illustrated Celebration of the Canine          Condition." The Marginalian, 18 Sept. 2015, https://www.themarginalian.org/2014/05/19/1000-dog-portraits-robynne-raye/.
"1,000 Dog Portraits by Robynne Raye." Dog Art Today, https://dreamdogsart.typepad.com/art/2014/04/1000-dog-portraits-by-robynne-raye.html.