White Tiger / Blue Dragon
is one of Can Yang's works during her time at Rhode Island School of Design. The title was inspired by mythological creatures in the Chinese constellations, Azure Dragon of the East representing Spring, Black Tortoise of the North representing Winter, White Tiger of the West representing Fall, and Vermillion Bird of the South representing Summer. The white tiger and blue dragon symbolize the East and the West. In a way, this represents Yang's identity as well in which she identifies as "Western-educated, oriental soul". In a way of where East meets West as where she is educated versus her own cultural upbringing. The book, White Tiger / Blue Dragon, documents the ancient practices of Chinese alchemy where she provides instructions on how to make elixirs. In addition, the book is a study of ancient Chinese practice and their effect on modern and contemporary Chinese culture in today's society as well as exploration of her ancestry.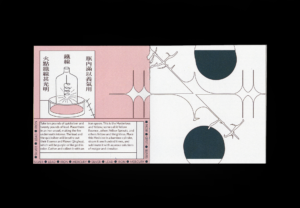 The book is made up of a muted colors and features illustrations drawn by Yang as well as featuring a mixture of Chinese characters and English for text. The diagrams and illustrations have recipe instructions next to it. She wanted to showcase the design theories and principles she had learned at RISD as well as wanting to display juxtaposing concepts and styles. In the book, she wanted to pay tribute to the ancient scripts she was inspired by as well as being inspired by her cultural upbringing and traditions from her grandparents in China. 
Bibliography:
https://www.itsnicethat.com/articles/can-yang-white-tiger-blue-dragon-graphic-design-160518
https://www.ancient-origins.net/myths-legends-asia/four-mythological-symbols-china-001792