Variety is the Spice of Life
I put hot sauce on everything, and I always look forward to trying new types of it! One of the things that often strikes me first is the label design. Here are a few examples of sauces I had around the house that I have yet to try. Each of these labels is a mini artwork, encompassing the spirit of the sauce.
I particularly like the, "Lucky Dog – Year of the Dog" design. I have had several of Lucky Dog's sauces in the past and am always drawn to their bright attractive designs. The use of contrasting colors and floral patterns really draws my eye to this Thai Chile pineapple hot sauce, and their motto, "Food's Best Friend", sits just right with me.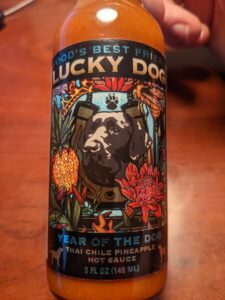 One look at the "Torchedstone Thai" bottle and you know what you're in for. The flaming skeleton holding flaming bottles of hot sauce indicate that this might not be one for the faint of heart, or stomach.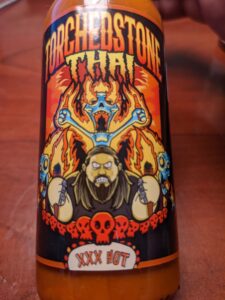 And finally, this picturesque desert landscape gives a sunny southwestern feel to the "High Desert Tikk-Hot Masala", simple but effective.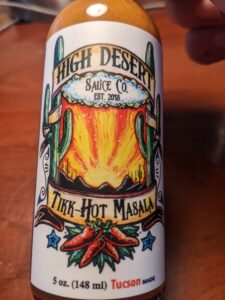 Throughout my hot sauce career, I have come to appreciate these labels as a way for each individual hot sauce to stand out from the crowd. I really like the way many of these are done. I have quite a few like this and they all seem very inspired compared to most other food packaging designs I have seen. It is as they say; variety is the spice of life, and hot sauce.