Wild Designs in Makeup: Sunny Golden-Pink Blush by Benefit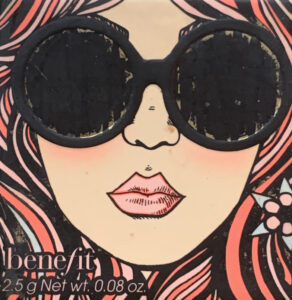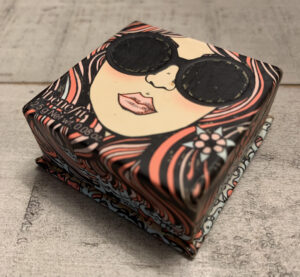 These photos are of one of my makeup products, Sunny Golden-Pink Blush by Benefit. This is an everyday object that I see continually in my daily life. I think the design is particularly eye catching, visually pleasing, and fitting of the product. The colors are warm and pink, suiting the name of the blush. I especially enjoy how this design wraps around the entire product.
My only criticism is how the emphasis is on the sunglasses, the lips, and the hair. The blush on the cheeks almost seems like an after thought. For a consumer, this may be confusing. I would say that on first glance many would not know what this product is until inspecting the product more closely. Luckily, I think the design itself is eye catching enough for most of these issues to not matter. The design in my case made me want to pick it up and interact with the design. Once someone does this, they'll be able to put together that this is a blush.