Uninspired Deodorant for "Kidz"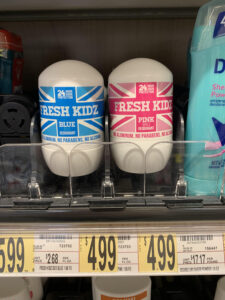 I came across this deodorant while shopping at Wegmans. In an isle filled with deodorant, these ones immediately caught my eye, but for all the wrong reasons. I find this packaging design to be uninspired, cliché, and unnecessarily gendered. Before I list all of the reasons why I do not like this design, I'll first highlight the aspects of this design that (kind of) make sense.
As these deodorants were the first I noticed in a shelf of probably over 100 others, I'll admit that the design stands out. Another aspect of this design that I'm not angry about is how obviously for-children this product is which is evident through the more childish/casual font, bright colors, and their spelling of 'kids' with a Z rather than an S.
Okay now that the positives are out of the way, I will now highlight every reason as to why I do not like this design.
The first thing I noticed was the color choice, blue for boys and pink for girls. Without getting into the implications of gendering, I will just say that this, for lack of a better word, sexist design is stereotypical, boring, and beyond obvious. Notice how there is no mention of scent anywhere on the package, just "Pink Girls Deodorant" and "Blue Boys Deodorant". You may claim the color pink as your favorite scent but there is no way to know how this deodorant smells based on the description "pink". Upon further research (visiting the company's website), I found that they actually carry four types of deodorant: "Boys", "Girls Pink", "Girls Purple", and "Unscented". The only way I could find the actual scents were through online customer reviews, which is a lot of work that I'm willing to bet grocery store shoppers will not take the time to do. They could easily just offer three scents and an unscented option rather than separating their products into 'boys' and 'girls'. If they really want to use color as an indicator of what type of deodorant this is, I would suggest using the color green as apparently this is a natural deodorant. While the packaging does state "No Aluminum, No Parabens, No Alcohol", most would not connect that description to the fact that this is a natural deodorant. I only fully realized that this product is natural after visiting their website.
The next thing I noticed was the fact that the design resembles the Union Jack. After researching, I'm pretty sure this company started in the UK but I could not find any information about their origins, even on their website. You would think that this would be important information to them as their packaging design is just the Union Jack in pink and blue but they do not talk about this anywhere. This design choice just feels unneeded and confusing as it does not express or contribute anything important to the customer's understanding of the product.
I previously expressed that I found no issue with the childish elements of the design like the font and spelling as it clearly represents who their product is for, however, I highly doubt that kids are the ones shopping for their own deodorant. The packaging design could stand to have more mature elements as parents are the ones who will be looking, analyzing, and ultimately buying this product. The only things expressed through the current packaging design are that the product is for children, is gendered, and is possibly from the UK. If the values/mission of this company were to be summed up in two words, they would be "children" and "natural". In my opinion, their packaging design only relays half of what they represent.