Navigating Space: Finding Your Way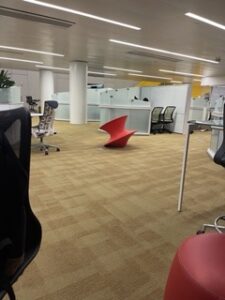 This is the Hill library located at Centennial campus. The architecture gives off a perfect vibe where students can fully focus on their work. Stay long hours with their fancy chairs and study rooms. Perfectly comfortable and fun with the bold colors used to amplify that vibe they try to set. With big open space and large windows to make the space feel more open. Having random chairs set around each floors, like the one in the picture. Communicates the comfy vibe given off and that the place can be much more than to study but to have fun and talk as well. The borders of the little booths adds the place vibe as it can be a great study space with its private walls as well.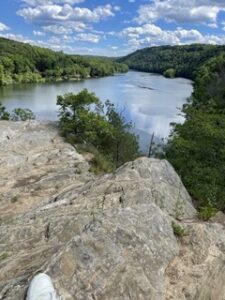 This place is called lovers leap. A beautiful hike in Connecticut, and where all animals are welcomed. The scenery being very green and rigorous with the rocks and cliffs overlooking the wide view of the lake. Overlooking the great trees that stands in between as well. Giving off a very free feeling and calm feeling as well. A great place to relax and think about deep thoughts also. It also gives off a very friendly vibe as other hikers greet you when you made it to the end.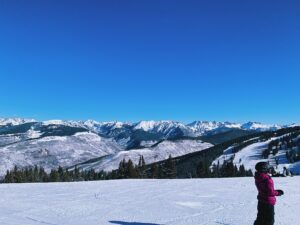 This is taken in the great mountains of Vail, Colorado. Riding up the ski lift to the top of the mountains and just overall feeling free when riding down the slopes. The crunchy to soft powder as you go down, and seeing families skiing or snowboarding together giving off that happy and fun vibe. Where the slopes were made to overlook the great tree's, and ranges of mountains. Expanding the vibe of the environment being fun and free as well. Where the cool crisp air hits your face but enjoying it anyway.