Navigating Space: Finding Your Way (Wellness and Recreation Center/Carmichael Gym)
For this assignment, I chose to look at the Wellness and Recreation Center/Carmichael Gym because it is a space I am at every day of the week. In the space, there are classrooms, workout areas, multipurpose courts, and a few other rooms including: racquetball, boxing, golf, and studios for yoga or other classes. Also in the center of the building, there is a pretty big rock climbing wall for people who are into that or want to try new things. There are four floors in the space; however, there are signs all around the building to point you in the right direction (such as the one below) if you become lost.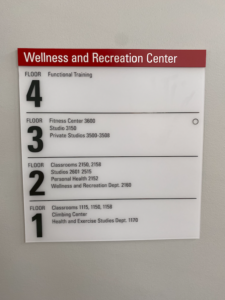 In terms of a design perspective, the architects, interior designers, etc. put forth a lot of effort in creating this place. First off, looking at the space from the outside, you will notice that it is mainly glass, while still incorporating that NC State brick. This allows a tremendous amount of natural light to flow freely through the open space inside the building, which can lower the costs of electric bills and can even put the users in a positive mood. Moving to the inside part of the building, you will notice the basic colors that are used around the place such as white, grays, and blacks. However, it wouldn't be an NCSU gym without bringing in that bright red, which can be found on furniture, equipment, signs, etc. Although, this place is so big, I feel like it isn't big enough. At the time I go, usually between 1:00 pm – 4:00pm, it is so busy, so you have to wait around a lot of the times if you are trying to do a specific exercise; or if you want a certain weighted dumbbell (being that there is only 2 of each weight) you may have to wait or choose a lighter or heavier option.
In conclusion, the space is aesthetically appealing from both the inside and outside from the colors to the modern glass design. There are a number of different activities you can do in this space including: racquetball, basketball, volleyball, table tennis, boxing, rock climbing, and even just working out. If you are looking to get in shape or just hang out with friends, I recommend going to the Wellness and Recreation Center/Carmichael Gym at NC State.