The Court Of Carolina Vibe and Environmental Design
An area I wanted to talk about was the NC State Court of Carolina. I love the Court of Carolina, as it has a very peaceful yet welcoming vibe. The court is quite large, and parts are paved with the classic red bricks NCSU is known for. These paths stretch from side to side but don't take away from nature. The court has beautiful flat grassland and a variety of large oak trees surrounding its borders. The court also has a variety of beautiful flower bushes and other flora that bloom in the spring, which makes it that much more beautiful. Lighting in the court, while surrounded by trees provides, is abundant as it is outside. The sun shines in the center, however, there are places one can sit and enjoy the shade as well.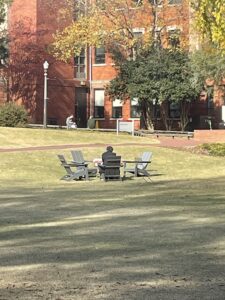 Public chairs and mini tables are placed in the center for people to sit and enjoy, work, or hang out with friends. The chairs are also movable, which allows for individuals who want to sit alone to do so, but also allows larger groups of people to all sit together. The grass is always kept short so individuals who want to lay on a blanket instead of a chair can do so as well. At the top of the court, there are large, magnificent layers of stairs that by themselves are a joy to look at and appreciate the symmetry behind them. The court of Carolina is not in a random location but sits in North Campus NCSU, so it is bound to be surrounded by school buildings.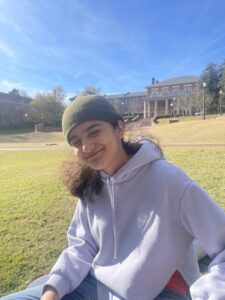 The court provides a nice natural get-away from class for all students. While some might think the surrounding buildings take away from the court, they are very well entwined. You can see the signs for each of the buildings from the court, so if you are looking for a particular building then they are easy to find by merely following the brick paths. Finally, the best part of the court, is its view of the bell tower, one of NC States icons. The clock goes off every half hour and a beautiful melody of bells plays. This chime not only serves to enlighten its listeners but to also let students know they must get to class!