Navigating Space: Wegmans
For this navigating space assignment, I choose to talk about the overall design and feel of Wegmans. Wegmans is an American supermarket chain similar to places like Walmart or Publix. What I enjoy most about Wegmans is the interior and how it seems so different compared to other supermarkets. In other places, the color of the environment is usually white or some other unappealing colors but at Wegmans, most of the interior seems to have this light tan color. Mixed with the light bars and the singular bulbs at the front of the store, it creates a well-lit environment that creates a sense of calmness and relaxation.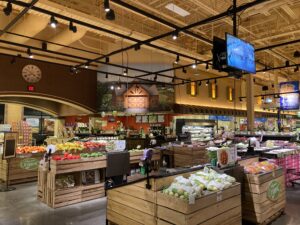 Something that also seems to stick out compared to other stores is some of the designs for the structures. At the front of the store right after entering, near the top of certain areas, there are windows with open doors that have a soft light coming through them. Along with this, there seems to be some type of roofing just peeking from the bottom of the wall which is prominently seen near the bakery section and where the pizzas and sandwiches are made. This creates a type of at-home structure making you feel secure buying these items or even just seeing how they are prepared.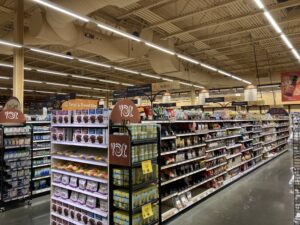 On each aisle, there is usually a big sign on top telling you what you can find in each aisle. Something that I found interesting is in certain aisles, there are smaller signs with little details based on what the sign is for. For example, in the section with health-related items, these signs are black with a colorful flower type pattern while the signs for some Asian items have a wood-like design with some watercolor effects. I like how this promotes an environment for inclusiveness for certain areas when one goes out shopping.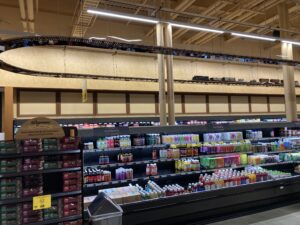 One of the most interesting things about Wegmans can be found towards the center of the store. Here you can find a train track hanging from the ceiling with a model train running on it making occasional train noises. It's a unique structure that I have never seen in any other supermarket. This is a small yet very fun touch to the overall environment creating a feeling of playfulness. The train can be enjoyed by not just children who may not enjoy grocery shopping but people of all ages as well.