Navigating the JC Raulston Arboretum
The place I chose to navigate is the JC Raulston Arboretum which is essentially a research garden under the purview of NC State while still being a separate entity. It is easy to see the influence of NC State here, both with the prevalence of bricks in the paving and building of the walkways and with the distinct building signage. The building signs have the NC State colors and use the exact format and lettering that you see on-campus buildings.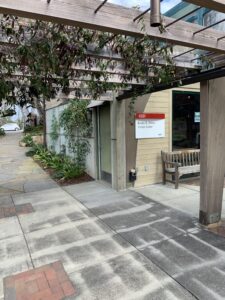 The energy of the gardens is mystical, playful, and romantic. It would be easy to imagine the gardens as the setting of a fantasy movie or a Shakespearean play. The winding paths and the "hidden" waterfall feature encourage you to enjoy the ambiance even if you aren't a plant lover. The Necessary, which is the building with the weathervane, fits the fantasy aesthetic with its bright blue paint and squat build contrasting with its sweeping, uniquely shaped roof.
Even months before the gardens are meant to be in their prime, the space is not lacking with greenery.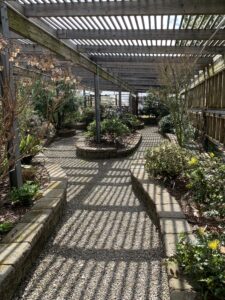 Because this is a research garden and not a park, the pathways don't invite you to venture off of them and every single plant was a marker informing you of both its scientific name and its common name, if it has one.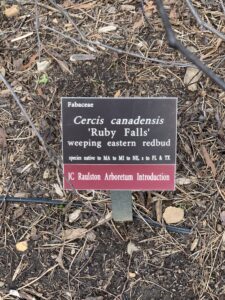 One of the things I noticed that I would change is that the areas of the garden don't have signs that let you know when you are moving out of one area into another. There are different spaces in the garden that have distinct names but unless you pick up a mildly grainy greyscale map from the visitor center from an unlabeled container you wouldn't know which space is which. I can see this being a problem if you are someone who has come to the arboretum to see something in a specific garden.