Navigating Space: The Station Clubhouse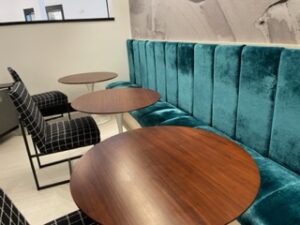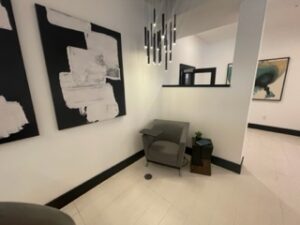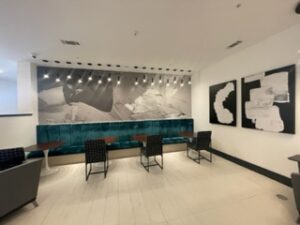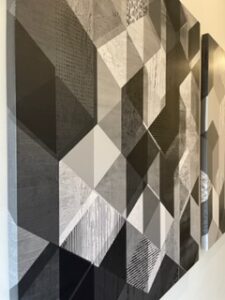 For my space, I selected one of the lounges at the clubhouse of the student housing complex, The Station. In the clubhouse, there are multiple areas where students can interact with other residents or go to do homework. It includes pool tables, seating areas with a fireplace, a small kitchen area with a table, study nooks, and private study room areas. 
In the entire clubhouse, there is a theme of green and blue accent pieces in each room. These are tied into some of the larger pieces of artwork in the hallways to brighten the area and make it cohesive. 
The clubhouse is the first place where potential residents and parents see when receiving a tour. Due to this, there has been great detail to design to make the area appear as clean, modern, and classy. 
The space is overall very clean and simple. With white walls, black trim, and neutral-based floors. The white black and gray artwork flows throughout the room making the environment seem calm. The velvet teal couch brings a pop of color to the area to brighten up the gray and white environment. The wood tables also bring a connection to the texture of the floors. The floors are a light wash wood texture although it appears to be tile. 
The artwork in this area resembles that of concrete. The large image on the wall is a screen print wallpaper and appears to add texture to the wall even though the image is flat. The two canvases also resemble that of a textured concrete material to continue the grain of the wall.  There are different types of lights in this area. All of the lights are motion censored, with the first being typical overhead lights built into the ceiling. Secondly as seen in the photos, there are long black hanging lights in clusters over the seating areas. Not only does this add extra light for homework purposes, but it also adds an element of ambiance for users of the area. It makes the space seem expensive and almost like you are in a home showroom. 
This space gives off the vibe of a calm environment where one can get work done in a soothing setting. While also giving the appearance of an expensive upper-class room for its residents to use.