Navigating Space: NCMA's Museum Park
North Carolina Museum of Art's Museum Park integrates sculptures and art within the natural landscape in Raleigh. The designers of the Museum Park's choice to leave as much of the land, plants, and animals undisturbed is clearly communicated and emphasized throughout the park. In addition to posting signage about the artwork, designers included posters and information about native species of plants and animals visitors may see as they travel through the outdoor space. Aside from a few spaces with stairs, the pathways throughout the park rise and fall with the hills located there. The signage throughout the park is minimal in its elements, to blend in with the natural environment and not detract from the beauty of the land. 
Another design element of the Museum Park is the posted map which names the works of art and numbers them along the path, visitors are encouraged to walk the loop at the museum and see all the numbered sculptures. The map itself also lists various trails at the museum park visitors can walk, run, or bike on yet another element encouraging visitors to expose themselves to the  beauty of Raleigh's landscapes. The open, undisturbed nature of the Museum Park as well as the elements that provide information on the natural landscape all come together and emphasize the unification of the environment and the art exhibited.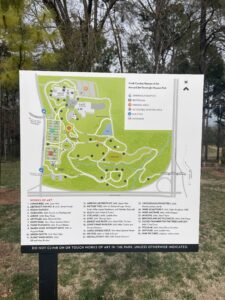 There are no changes to the overall design of the Museum Park. I really enjoying walking the loop and the park on a nice day and highly recommend doing so to other people. There are several maps posted along the loop but I feel that there could be more signage directing visitors to the posted information about individual sculptures. The signs themselves are on the smaller side and hard to spot if you don't know where to look or are unfamiliar with the area.