Stafford Commons, a Common Place in Every Student's Heart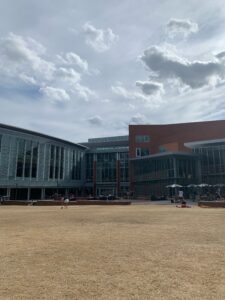 When looking for a nice study spot, Stafford Commons is a top pick for many students. The large grassy area provides optimal sun exposure for those looking to absorb some good rays, but the option of shade coverage near Talley Student Union is also available for those who just want to enjoy the weather. When looking for a spot to sit, play spike ball, or throw around a football, Stafford Commons has plenty of open space for all of those activities.
Stafford is a large open field behind Talley Student Union. It is broken up by sidewalks and walkways, so students on the go can walk through and enjoy the open space and has plenty of space for students to sit on the field or at tables. It is decorated by small trees and shrubbery towards the edge of the field, allowing for plenty of open space for school events, sports, or just laying outside.
I personally go there to relax and do homework, or play spike ball with friends. I find looking for a spot to set up an easy task, even when it is nice weather outside and everyone wants to sit outside. There is a lot of spots to sit in the grass, or at a table under a cover, so I never usually find an issue with seating because there is a lot of space. Unfortunately, the tables are a student favorite and it tends to be a bit harder to find an open one to sit at, but if you're lucky someone will be leaving so you can snag their seat.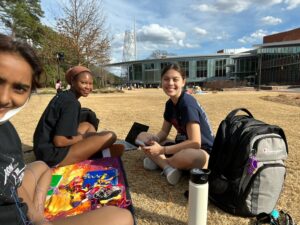 For the past two days, I have been visiting Stafford to sit in the grass and do homework and find that experience peaceful. Since the weather has been nice and warm, I wanted to change up my scenery when doing homework and found that sitting outside was very relaxing. I enter Stafford and sit in the field area with a few friends and we set up a blanket to sit on while we work. I like doing my work in the presence of other people, and seeing everyone out on Stafford was enjoyable because there were so many people out, all doing different activities. The only downside of doing homework outside is that when your laptop runs out of battery you need to move inside to find an outlet. But there is a hidden gem on Stafford: an outside outlet! I can sit outside and still enjoy nice weather while charging my laptop. Stafford Commons allows for students to spend plenty of their time there when it is nice outside with its spaces in the shade and in the sun and its outdoor outlet puts a stop to going inside to charge your laptop.