Navigating Space: Hunt Library
Hunt Library is one place on NC State's campus that I truly enjoy. There are many unusual types of spatial configurations in the building as well as the outside architecture. Hunt Library is a necessary location for students whether they have class on Centennial campus or not. This large library is so enticing, especially for a design student. This is a 'way-finding system' and I overall think this structure can be daunting for those who have never been inside Hunt Library. There are countless areas to study as well as unusual and abstract seating. Once you enter the lower floor there are not many rooms or seating so it is assumed by the design and bold colored staircase, that you go up the stairs to enter the main floor. Once you enter the main floor there are a couple of kiosk desks. This gives off the impression that this area is the entrance to the study areas. Hunt Library is so huge that sometimes it can be difficult to navigate but once you understand the layout, it is an interesting place to explore!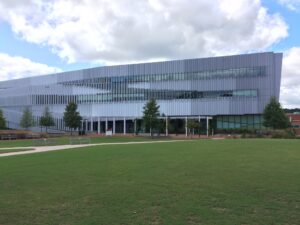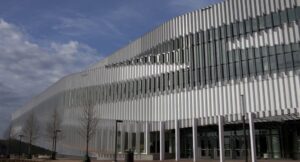 If you have ever been to Hunt Library, you are familiar with the bold, yellow staircases that take you from one floor to another. This is one of my favorite details of the library because it is so unusual from other ordinary libraries, like D. H. Hill. They contrast the white walls and light-colored flooring so that they stand out amongst the other interior architecture. There are a couple of different staircases that focus on this design theme, some of them are organically arranged. For instance, there is a lack of fluidness when it comes to the construct of the stairs, there are no circular or round forms. The stairs give a sense of hierarchy by the continuous repetition of stairs, forcing me to look up to the next floor to see what is there.