January 8 Memorial by Rebeca Méndez
Rebeca Méndez collaborated with Chee Salette, an architect, and landscape architect, to create a memorial in Tucson, Arizona, United States. This Memorial honors the 2011 shooting of the victims and survivors that wanted to engage in democracy at Representative Gabrielle Giffords' "Congress on your Corner". The gunman fired thirty-three rounds, killing six and wounding eleven citizens.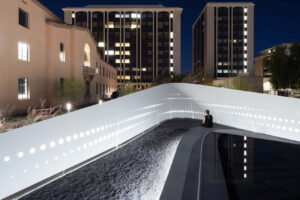 The Memorial is carved into the landscape of El Presidio Park, where visitors can honor the victims and survivors, and reflect and contemplate the tragic event. Additionally, the Memorial has symbolic language inspired by the petroglyphs of the native Hohokam in the Sonoran Desert. Using these symbols, Méndez told the story of the horrible story, the history of Tucson, and the community's hope for the future.
Moreover, the symbols convey the story of Tucson's resilience in the face of climate, conquest, violence, segregation, and modernization, and their accomplishments in cultural, technological, and industrial aspects. Overall, the symbols capture the spirit of Tucson: "Together We Thrive".
The surrounding gardens form "Living Walls" that protect the Memorial. It changes with the seasons, but it is timeless. It's made of an organic landscape of stone and plants woven in a pattern that resembles an old weave basket. The citizens planted seeds between the spaces of the woven pattern, representing the celebration of the community's togetherness in the face of this tragedy, a place of healing and celebration of life.
Bibliography
https://rebecamendezstudio.com/January-8-Memorial-Tucson-Arizona