At The Same Time by Rebeca Méndez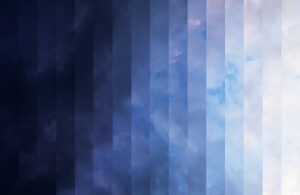 Rebeca Méndez was commissioned by LA Metro to create a mural for the Expo Line/Crenshaw Station. Alongside local artisans, they created a beautiful glass mosaic mural ten feet by ninety-six feet in 2019. The title of the mural is At Same Time, a portrait of an entire day in Los Angeles, California.
Between January and March of 2019, Méndez spent several days and nights photographing the sky in Los Angeles. She captured each frame every fifteen minutes, resulting in ninety-six moments of the atmosphere. Each measured one foot wide by a hundred feet high, composed of tiny glass mosaic tiles. These tiles had multiple tones of blues, greys, and whites, made by local artisans. The irregular surface of glass tiles responds to the station's light by mimicking the natural shimmering of stars and the sun.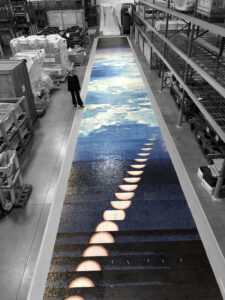 At The Same Time serves as a peaceful oasis in the busy days of commute in Los Angles. It inspires the population to bring together their mind and body as they experience the fullness of time expressed in the sky on the station.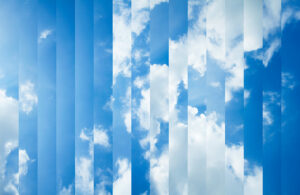 For the mural, the artist carefully selected photographs that had blue skies and scattered clouds because it reminds the citizens of Los Angeles of the value of water and highlights the good fortune of living on a land full of sunlight.
Bibliography