Navigating Hill Library
Hill Library is one of the perks that come along with being an NC State student but it is also open to the very public. There is always something for everyone to do at Hill Library. There are nine floors in the building but it is a bit confusing at first if you are not familiar with the library. Multiple elevators can take you to the main floors but other elevators take you to the book stacks which I was not familiar with at first.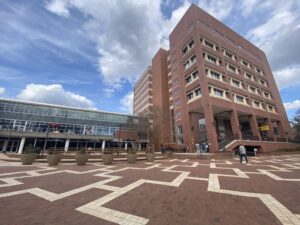 When walking up the stairs there is a big logo that says "Ask Us" as it is the front desk where the staff can help give directions, loan equipment, or find books that you possibly need. In the same area as the "Ask Us" desk, there are screens that display upcoming events, workshops, and information about the library. I love the resources that the library can provide like the digital media lab and the maker space.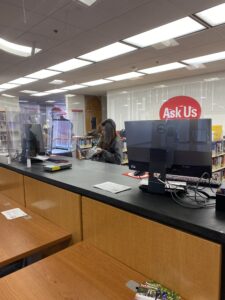 There are two entrances to the library in the front or back. One side is facing Hillsborough Street while the other side is facing towards NC State's central campus. On the side facing Hillsborough street, there are some tables outside for seating to be out in the sun or under the shade when there is nice weather but there are not many outlets close to by. The other side facing towards the brickyard has the atrium to get food and above it has outdoor seating with red umbrellas, tables, and chairs for students to work outside. Recently the university added string lights with warm lighting that is turned on at night if students want to eat outside on the picnic tables. It looks very welcoming. Most areas of the library are very quiet, there are always students around working at any time of the day. The library is open 24/7 during the weekday but during the weekend it closes at 1opm.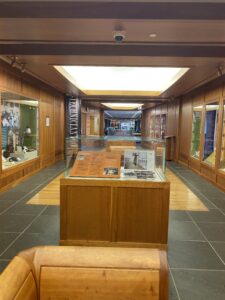 When first looking at the design of the library's exterior, it is mostly made of brick which is what NC State's campus is like but when you come to the interior, it is very modern for the most part and the color choices are great in some areas but can be bland in others. This library sticks to accents of red because this is NC State but there are also other fun colors for the walls, chairs, floors, and displays. There is a range of materials for the tables and chairs. There are wooden tables, metal tables, and glass tables mostly. There are also fun chairs made of wood, rubber, silicone, metal, plastic, and more. The displays have a history of NCSU involving politics, major old news, information, artwork, etcetera. Some of the shared spaces with tables feel cluttered or there's not a path. I would maybe space out the chairs and computer stations or take some of these stations and move them to another part of the library that has an open floor with nothing else. I would also change some of these wooden chairs because they do not give any back support at all.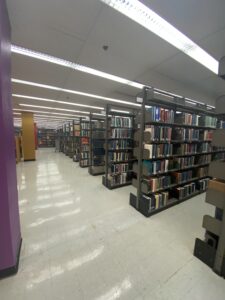 The main floors have a great reputation for how it is designed and easy to navigate in the beginning as a first impression. Later as you go further from the main areas, it may seem a bit more empty and does not have as many renovations. There are glass-enclosed rooms that have big tables and comfortable chairs as back support while the book stacks have terrible lighting and it becomes difficult to find open seating. There are many areas of this library that give a different "vibe" compared to others. The library also does room reservations for a study room but it always seems impossible for me to be able to book a room because of how many students study here.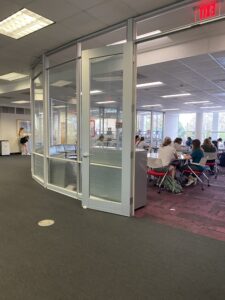 When I first came to this library I was lost because I was not able to find the room that I was supposed to meet at because of the different elevators but the designer decided to label and have arrows that helped me get to where I needed to go. It just wasn't as noticeable at first. I think if the designer had made the text a bit bigger or have some banner or indication of where the books stacks were because they are very hidden.