The Exciting Environment at Carter-Finley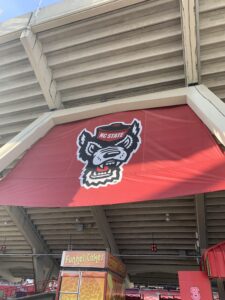 The space and environmental design that I chose to discuss was Carter-Finley stadium. The football stadium is visited by thousands over the course of the football season. However, fans often don't take the time to really digest the design and space that surrounds them during their fan experience.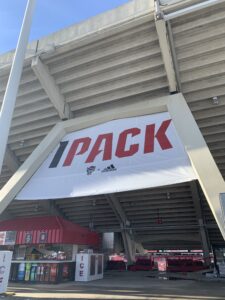 To start off, each environmental design is displayed at an entrance where all fans are able to see them very easily. All of the environmental designs are in the school colors: red, black and white. This goes along with NC State's brand because of the matching school colors. It would not make sense for the designs to be in other colors, such as Carolina Blue. In addition, the designers used Wolfpack font that is seen on various NC State branded content or items, such as signage or player uniforms. Through the usage of the school colors and font, it creates an easily recognizable and school spirited environment for anyone that steps foot into Carter-Finley.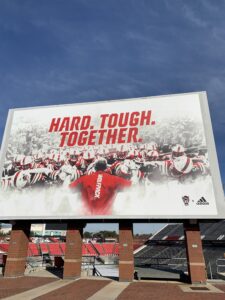 With it being the football stadium, the designers took into account the NC State Football brand while also adding in the NC State Athletics brand where it was appropriate. The environmental design of Coach Doeren and the football players is located on the concourse where thousands of fans are able to see it clearly. One of NC State's football slogan is "Hard. Tough. Together.", so by putting it on this design it was able to convey the football environment of the team to the fans very easily. It also creates a high energy environment because of the chosen picture, which shows the team getting ready to run out on the field. Instead of just being a full color picture, the designers were able to isolate the red while making everything else black and white. This red isolation design choice goes back to another NC State brand choice that is seen across different athletics.
Overall, I think the designers did a great job of creating a welcoming and exciting environment for fans along with staying on brand of NC State Athletics and NC State Football.