Hard to Read Window Displays
During my trip to San Francisco, I came across this advertisement: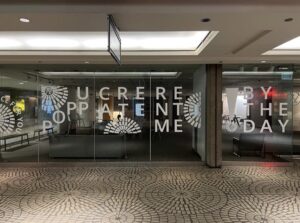 Take a second or two and try to guess what it says. My initial thought was that it might be in another language (since I couldn't comprehend anything on there); however, it was actually a poorly-designed mural! I do like the brick visuals next to the words as it matches the floor of the mall. That's about all I have to say for the positives. The mural is supposed to say phrases like "pop-up", "create", and "rent me by the day", but the glass panels are arranged so close to one another that it becomes hard to read and understand. This defeats the purpose of the advertisement — if no one can understand what it's saying, then no one will pay to rent the space.