Asian Stereotypes Tropes
As a successful example of immigrating to the United States in the last century, while Asians immersed in the collective sense of honor of being able to create a good life in a foreign country, they were also experienced bursting backlash by being accused of the prototype of a racial idealogy, the "Yellow Peril."  Here are three instances of how the media shapes Asians under a sense of bias.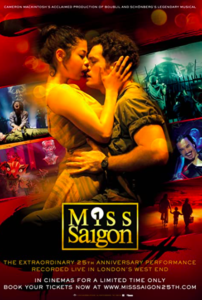 Medium: musical theatre 
If you have ever carefully observed many Asian female characters appearing on hundreds of entertainment works over the decades, you would figure out that these women tend to be portrayed as "providing services." The "services" are not only about providing physical things but also emphasizing the psychological submission of Asian women. We can glimpse how media internalize this kind of "the femininity of Asian women" by analyzing a famous musical theatre, Miss Saigon. It emphasizes a fixed image of Asian women as sex workers who used to be victims of sexual exploitation under the shadow of white supremacy. Kim, the female protagonist, was just a prostitute who served Chris (male protagonist), a white soldier, to meet his sexual needs in order to got financial support before they did truly fall in love. When waiting for them to formalize their relationship, she acted infatuated again. Although Chris abandoned her and left, she was still waiting for him without any complaints and expected they could reunite again until he came back with his white wife. Kim finally decided to end her life in the end after she agree that Chris and his wife go to the U.S. with her son (to provide a better material life for her son). Like this kind of pseudo-romantic cliché that white males rescue Asian girls who are in trouble repeats again and again in the following movies and TV shows, but it wouldn't be surprised that they tend to express a biased allegory that Asian women are "lotus," which are consecratory, obedient, and the objects of desire.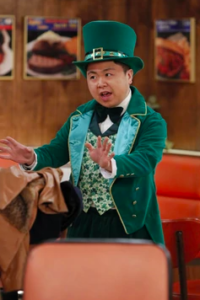 "2 Broke Girls"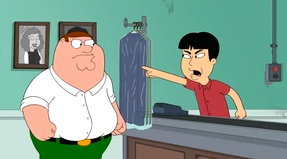 "The Family Guy"
Medium: TV
Compare to the hypersexualized depictions of Asian women, Asian men have always been considered outsiders of developing a normal romantic relationship. According to Salesses (2020), the temporary Asian men stereotype as "emasculated," and " infirm" can be accounted to white insecurity. Under the influences of the 1875 Page Act and 1882 Exclusion Act, Asian men had been pushed to take inferior jobs, such as cooking and laundering that were defined as "women's work," in order to eliminate the fear of the white men who had complained that Asian immigrants would steal their jobs. Thus, the economic value of Asian masculinity began to decline at that time. This historical background fosters the misrepresentation and stigmatization of Asian men, which causes two different stereotypes of Asian men to come out, including desexualization and emasculation. This kind of "asexual" trope has been applied to a bunch of TV roles, such as Han Lee and Mr. Washee. As a Korean American, Han Lee contributes a lot of laughs to the audiences with his embarrassing incidents and failed to attempt to girls in the drama as he tries to integrate into American mainstream American culture. Mr. Washee has been single for a long time, and he is an owner of a famous ten-years dry cleaner place as well.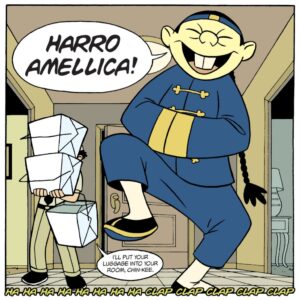 Medium: cartoon
Chin-kee is one of the main characters in a graphic novel, American Born Chinese. This image depicts what Chen-kee looks like when he arrived in the U.S first time, it undoubtedly is a mishmash of stereotypes of Foreigners to Chinese Americans in the old time. We can see him as a yellow-skinned character with a Qing Dynasty braided head, eyes narrowed into slits, and two buck teeth exaggeratedly exposed outside his mouth. The words appeared on the frame "Harro Amerlica" is also an example of visualization about an oral issue a lot of Chineses have faced that sometimes they cannot clearly distinguish the pronunciation of "R" and "L." Vulgarizing the image of Chinese people in the media used to be a useful tool of lighting the fire of anti-Chinese sentiments after the explosion of California Gold Rush in the 1980s, and now like these kinds of stereotyped images have been used to spread racial anxiety by wrong hands. 
Work Cited
https://www.today.com/popculture/here-s-how-pop-culture-has-perpetuated-harmful-stereotypes-asian-t213676#anchor-strongThelotusblossomstrong
http://cbldf.org/2013/07/using-graphic-novels-in-education-american-born- chinese/
https://www.theguardian.com/us-news/2020/oct/23/asian-american-masculinity-white-male-insecurity
https://lhsepic.com/10064/opinion/stop-fetishizing-asian -women
Images
https://familyguy.fandom.com/wiki/Mr._Washee_Washee
https://www.imdb.com/title/tt6162808/
https://2brokegirls.fandom.com/wiki/Han_Lee
https://www.pbs.org/newshour/arts/this-chinese-american-cartoonist-forces-us-to-face-racist-stereotypes