The Big Apple Idea
I chose to explore the tropes revolving around the Apple (Malus).
In an ordinary context, the apple is known merely as a delicious red, most of the time, fruit. The apple is one of the most common fruits eaten all around the world. Apples grow on trees, often in orchards, and are used to cook a plethora of foods and drink, from a beautiful pie to refreshing juice. However, other than being a tasty treat, the apple is also a common symbol used all around the world. Depending on its presentation and style can have a whole assortment of different meanings.
(Medium)-Trope 1 is a line art magazine clip cartoon "Keep Away Doctor" created by, WallStreet Journal published, Joe Di Chiarro, uploaded 9/16/2020.
In the comic, what can be assumed, a hospital patient is warding off 2 doctors with an apple in his hand. The doctors look scared and act as if they cannot approach, as if the apple is affecting them. This is a representation of the common English proverb 'an apple a day keeps the doctor away.' In this example, the apple means more than a nice snack. The apple is associated with nutrient-rich food in general. Nutritious food is said to keep people healthy. If people stay healthy then they won't have to go to the doctor. The apple really tells people that they should eat nutritious food if they want to avoid having to pay the doctors a visit, which often has a negative connotation of illness and death. Since apples themselves were fairly healthy they were chosen as the sole icon to represent all of this, thus the apple and doctor trope was created. Overall, this trope is used to persuade people to eat better.
(Medium)- Trope 2 is a digital Apple advertisement created by the Apple digital marketing branch in 2020.
 While at a first glance the logo just seems to be a bitten apple, this logo is actually a metonymy for the companies whole line of electronic products, which have nothing to do with actual apples. Apple brands all their products with this logo, and as the company grew so did the meaning. The apple logo also is associated with the company slogan 'think different.' If this were a smaller company than this apple would not mean much, but because Apple revolutionized phones and other electronic devices this logo is associated with this as well. Apple is associated with its slick, modern, expensive, and effective technology, so when one sees a person adorned with this symbol all of those attributes are placed upon them. This trope is used for the advertisement of luxury goods.
(Medium)- Trope 3 is the painting "Adam and Eve" (1526) by Lucas Cranach (1472-1553).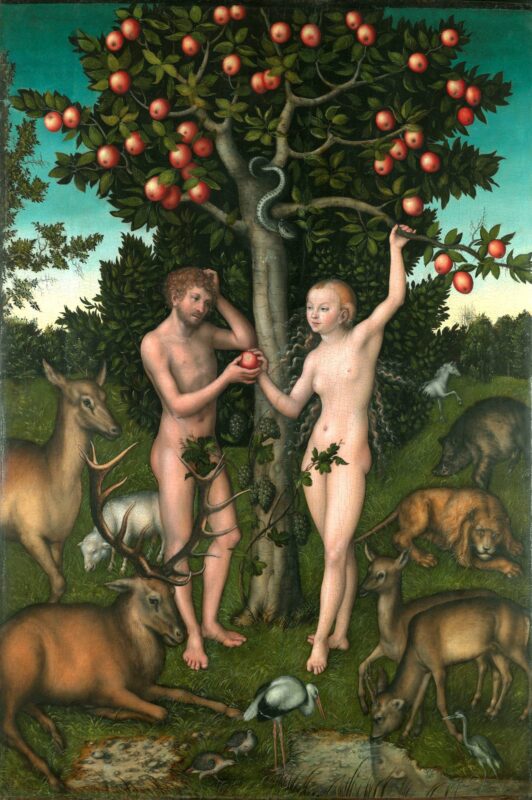 This painting shows Adam and Eve holding an apple together in a beautiful meadow. Eve is plucking an apple from the forbidden tree that is crawling with a long green snake. This is one of the most classic and well-known Biblical stories of Genisis. Eve defies God's one rule to not pluck the fruit from the forbidden tree, as she was persuaded by the devil. Without context, this is merely a woman picking apples. However, in context, these apples represent betrayal, sin, human greed, human downfall, and a plethora of other negative connotations. This piece uses a lot of natural colors, greens, browns… etc, however, the apples are a stark contrast to this. The apples are a beaming red that contrasts their surroundings and is tempting. This story is very popular and often used as a teaching story about temptation.
Bibliography:
https://9to5mac.com/2021/12/26/apple-card-cashback-offer/ 
https://www.jessicagavin.com/types-of-apples/ 
https://courtauld.ac.uk/highlights/adam-and-eve/ 
https://www.cartoonstock.com/cartoon?searchID=CX907668 
 ​https://www.worldatlas.com/articles/the-world-s-most-common-types-of-apples.html#:~:text=There%20are%20over%207%2C500%20apple,crisp%2C%20Fuji%2C%20and%20Cortland.