The Couch Trope in Sitcoms
In these images below, the trope is tv sitcom couches and the trope represents a sense of belonging and being with friends. This trope is designed to pull someone in and make them feel like they are hanging out with their own friends, having adventures with them. In the first image we have the season cover of The Big Bang Theory.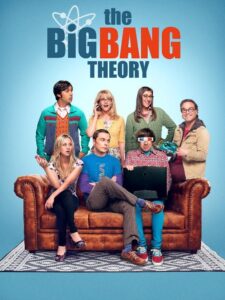 In this photo, everyone is showing off different expressions to show different personality traits and relationships as well as being gathered on a common couch, all squeezing together like there's no place in the world these people all want to be besides on this couch with all their friends. All of them have a pleased or slightly annoyed look on their faces as if there was a friendly joke made at the expense of someone else and that this a fun friend group to be a part of. This trope is to create interest in the characters and how they relate to each other as well as people seeing this picture wanting to be a part of the inseparable group that is happy to be around each other, joking and hanging out.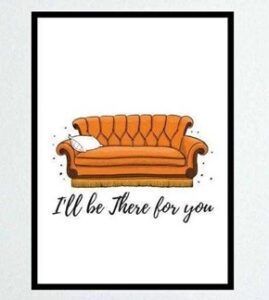 The next photo shows artwork of the show Friends and demonstrates how symbolic these couches can become in television sitcoms. No one is sitting on this couch but just based on how it looks and the quote above it, it is clear to see the poster is about a group of close people who gather on a couch and are there for each other, as the quote says. This once again is meant to stir up feelings of belonging and feeling these people in the show are your friends personally, and that there is a bond that will always be there for you. The colors are warm and there is even a faint sparkle around the couch like its magical in the way it brings people together.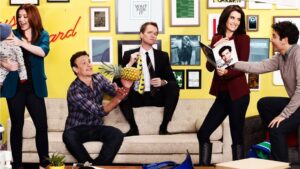 The final image displayed is a promotional photo to be put in publications to generate interest and advertise the show of How I Met Your Mother. This image once again as the characters of the show gathered around the couch, surrounded by props from the set of the show to create an environment that makes you curious about how these events fit together as well as placement of everyone in this photo making it feel as if they're all in a circle with you, talking on the couch and having funny moments in a effort to make someone tune in to the show to try to connect with these people further. The couch everyone is surrounded at feels like it pulls everyone in together to hang out as well as the actors standing around with smiles on their face, all doing their own thing, but around each other, together.
These couches in various show advertisements demonstrate how integral couches where groups of friends gather to share stories and jokes can be to a sitcom and make someone feel as if they are a part of this friend group, especially because most of these shows came out when people watched tv on their own couches instead of in their beds or out on their smartphones, so there seemed to be another connection to these characters as if everyone was on the same couch, sharing stories.
https://www.etsy.com/ie/market/friends_couch_art
https://www.nhregister.com/connecticut/article/How-I-Met-Your-Mother-She-s-revealed-in-9th-11394885.php
https://www.rottentomatoes.com/tv/the_big_bang_theory