Wild Night & Wild Design in Downtown Raleigh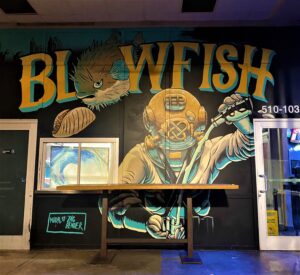 A few nights ago, I found myself wandering around downtown Raleigh with a friend of mine after grabbing some drinks and a bite to eat. Although it was freezing cold, we took our time walking back to the car and had the chance to admire some of Raleigh's unique art. This mural caught my eye immediately. I like how the artist used a black background and vibrant complementary colors to make the image pop even in the dark of night. I think some of its charm comes from the blowfish itself – who expresses a lot of emotion in its eyes. The artist also chose to use the blowfish as the letter O, acting as a visual or typographical pun. This adds some fun to the image.
Another thing I like is the typography and how it complements the mural's comic book feel. The artist does a good job of getting across the theme of the restaurant (tacos and tequila) in a fun and playful way.
My only critique is it is hard to tell whether the blowfish is hungry, scared, or angry. Regardless, I still find it cute.