Target design + my own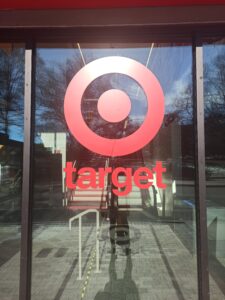 Hello Everyone,
I hope I am not too late with my post. I have been so busy and honestly didn't have much time to remember or walk around the outstanding design, but I passed by Target and decided to use it as my choice. I always thought that their logo was so on point and simple. Even if we remove the word Target, the logo will communicate the meaning relatively easy if not straightforward. I often love more color in design or several color use, but with Target, it doesn't have to be. It is what I call a perfect minimalist logo.
And here is a bit of self-promotion and sort of curiosity of comments and opinions. I designed this logo for my company and used the drop of ink for my spot. There was, of course, a photoshop iteration since it was not easy to get a perfect spot. It took me some time to decide on the font for the word studio, and both original fonts were different. Also, If SpotMe.com were available, I wouldn't bother with the "studio," thus eliminating extra wording and headache about another font.