Baby Got Peach by Colourpop
"Baby Got Peach" is an eyeshadow palette created by the makeup company Colourpop. I really enjoy the lettering and art on the front of the palette. It may be unclear in the photo but the lettering is very reflective gold. It makes the affordable palette feel more expensive. I do wish they had chosen a more interesting font, but the cute peach symbol for the "O" in "Got" makes up for it. The name itself seems to be a play on the term "Baby Got Back". Both "Back" and "Peach" are synonymous in modern speech for butt. It's a fun turn on the phrase and accurately represents the colors within the palette.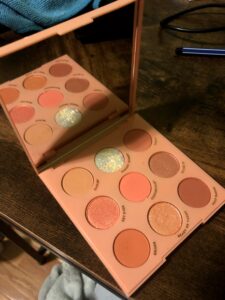 The names of each shade wrap around the curved undersides of the pans and they are lettered with the same gold as the cover. The use of the peach-colored plastic for the front was a great choice, but its use in the actual palette muddies the colors. Having a white or very pale pink would make the colored shadows stand out better. One thing you may notice is the asterisk at the end of three of the shade names. This is because these shades were deemed "not intended for use in the immediate eye area". While I appreciate the warning, it really bothers me that a company would include non-eyesafe shadows in an eyeshadow palette.