Master Gao Baby IPA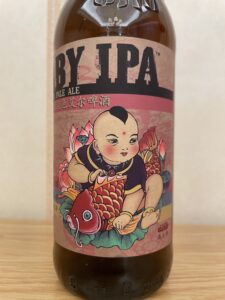 I love collecting beer bottles, and I found the one from "Master Gao Baby IPA" to be especially interesting and unique. The overall design of the bottle is quite lucid and structured, and you could receive the most practical information about the product from the front. The baby image, however, is weird at first: Almost no one would connect "baby" with "beer", and the depiction of the figure is very exotic. But when I noticed the Chinese characters on the left side of the front painting, I perceived the meaning of such a design.
"Master Gao" is a private craft brewery in China in 2008. At that time, "craft beer" was still in its development stage and wasn't accepted by most customers. Mr. Gao, the founder of "Master Gao", decided to add the image of a baby, in the style of traditional Chinese painting, to most of his craft beers. He hoped that his beer, as well as Chinese customer's acceptance of the concept of "craft beer", would develop like the growth of a baby.
Personally, I love the meaning of such a design, and the eye-catching painting of the bottle could potentially attract more customers. Although the purpose of including such an image is hard to grasp and comprehend at the first hand, the words appended are a great place to eliminate all nebulous feelings.