"A Brief Inquiry Into Online Relationships" Vinyl
As vinyls make a comeback in popularity, it seems as though artists are taking every chance the have to set theirs apart from others. It is because of this that we now have so many interesting designs from cover, to the inside, to the vinyl itself. For the band The 1975, aesthetic is essentially part of their brand. Which is why it is not surprising their vinyl for their album, "A Brief Inquiry Into Online Relationships", is one of my favorites I own. The first thing that catches your eye about this record is the cover text orientation, at first you question whether you are holding the record wrong, but then you realize that is is all part of the design.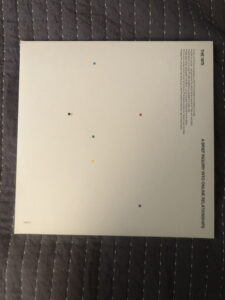 The inside of the album itself is beautifully done, with geometric shapes using colors that all seem to be in the right place, reminding me of a Piet Mondrian piece. The text itself is also placed very nicely with well-done alignments moving your eye in an "L" formation.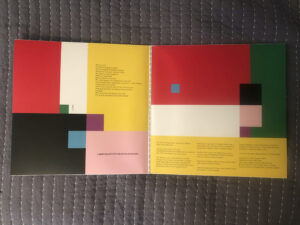 However, my favorite part of the design is the record itself, the bright yellow disk spinning on my record player reminds me of the Sun, and the sleeve is a a nice contrasting black that uses text to create an optical illusion.