Herbery Bayer's "The Menstrual Cycle" Brochure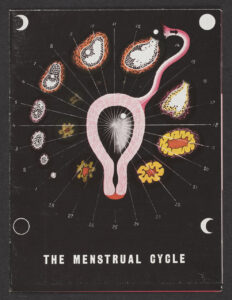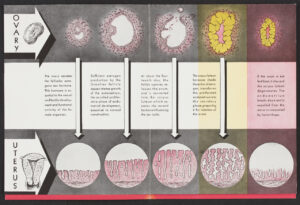 This Herbert Bayer piece is housed at the Smithsonian and was commissioned by Schering pharmaceutical company in 1938. This was during Bayer's long design career in America, making graphics for a variety of big-name magazines and companies. Stylistically the most Bauhaus aspect of the piece is its minimal type. Bayer believed that image was the key vehicle to communicate to viewers with and advocated for using as little type as possible in his works. The imagery in his works was generally abstracted if not photography but in this case, a literal representation of the subject matter was created. Many of Bayer's works like this one were done so literally to appease a client for who the general advertising material was made for. 
Bayer was an avid painter and many works like this one were done in gouache and then made into lithographic prints. This print was used as a brochure to advertise a hormone-based drug to treat period irregularity. He designed the illustration to represent a lunar orbit with a black background and moon symbols. This is a comparison of a woman's menstrual cycle to the lunar cycle implying how natural the product is. The lines protruding from the middle of the uterus count out the 28 days of the menstrual cycle, stages of it illustrated as organic forms around the uterus. The inside of the booklet retains the Bauhaus minimalist style and the gradual color to imply a timeline. The brief text and iconography of arrows give the reader clear information in a concise manner.
Sources:
https://www.smithsonianmag.com/smithsonian-institution/why-graphic-artist-regrettable-past-gains-attention-180974014/
https://music.si.edu/object/chndm_2016-54-378