Herbert Bayer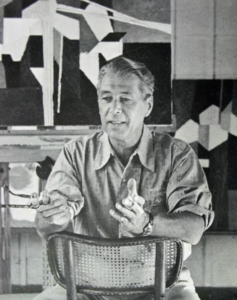 Herbert Bayer was an influential student and teacher of the Bauhaus movement. He advocated for the integration of all arts into Bauhaus and created their signature font, the Universal alphabet. The commercial typography he designed for the Bauhaus was a defining feature of the Dessau period and popularized the movement. 
He was born April 5th, 1900 in Haag, Austria-Hungary. His father died when he was seventeen which led him to apprentice with several architects. His first training with the architect Georg Schmidthammer at 19 years old. In 1920, he became an assistant to the architect Josef Emanuel Margold, who was a member of the artists' colony in Darmstadt. Margold worked as an interior architect and was a member of the Darmstadt Artists' Colony. Here Bayer became fascinated with the Bauhaus manifesto by Walter Gropius. He began using the minimalist, lowercase, sans serif design of the time which matched with most Bauhaus publications. 
Bayer quit his apprenticeship to be a full-time student at the Bauhaus in Weimar and Dessau between 1921 and 1925. Bauhaus students could take workshops in most any arts areas, reflecting vocational schools of our time. Teamwork was emphasized and mentors were useful for students to pursue certain mediums. Bayer studied muralism, typography, painting, photography, sculpture, and probably much more in his time here. Most notably he studied typography under Moholy-Nagy. This is where he developed Universal letting which was a sans serif alphabet that used no upper-case letters. He believed that because we do not need uppercase or lower-case letters for speech we shouldn't need them for our type either. 
During his studies, Bayer and a fellow student left to Rome for 18 months doing odd jobs like house painting to support themselves through the long trip. Bayer believed this trip to be formative for himself as it impressed upon him the long history of the earth with its ruins of ancient civilizations. 
After returning from his trip in 1925 Bayer was offered a position at the Bauhaus in Dessau as Master for a new typography workshop. This workshop was all about Bayer's Universal lettering as it had been adopted as the school's official alphabet. To support the workshop Bayer did graphic design and advertising work for outside companies. It was around this time that he also began his experimentation with photography. 
Bayer was married in 1925 but later divorced after an affair with Gropius's wife. He and Irene Bayer-Hecht had a daughter who remained with her mother after they split. In 1928 the government cut its financial support of the Bauhaus and Bayer left to pursue a career in Berlin as a designer. 
In Berlin Bayer made many graphics for German Vogue and was eventually made Art Director there. When Vogue closed during the depression he made fashion and textile ads for the Dorland Advertising Agency and resumed his graphic design and advertising work. Bayer accepted assignments from the Third Reich and produced Nationalist Socialist propaganda in the thirties. In 1927 He fell out of political favor and wanted to leave Germany claiming he was "appalled how blind" he had been to Nazism.
In 1938 Bayer emigrated to the United States after being invited by the founding director of The Museum of Modern Art, Alfred H. Barr, Jr. to help display an exhibit on the Bauhaus there. He lived in New York designing two more exhibitions for the MoMA and creating museum covers for Harper's Bazaar and Fortune magazine
Bayer continued working as a designer and art director in America, eliminating prose in ads, arguing the pictures and graphics had more impact on the viewer. He is credited with introducing new design principles into everyday use in America. He continued his work in painting after retiring to Montecito California with his second wife where he died in 1985.
Sources for facts and photo:
https://the189.com/design/collection-of-work-from-herbert-bayer/
https://www.smithsonianmag.com/smithsonian-institution/why-graphic-artist-regrettable-past-gains-attention-180974014/
https://www.bauhauskooperation.com/knowledge/the-bauhaus/people/masters-and-teachers/herbert-bayer/
https://www.famousgraphicdesigners.org/herbert-bayer#:~:text=Born%20on%20April%205%2C%201900,Bauhaus%20manifesto%20by%20Walter%20Gropius.
https://www.moma.org/artists/399?=undefined&page=2&direction=fwd