24hr Kitchen – 2×4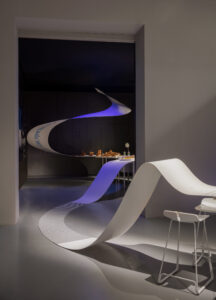 For the 2019 Fuorisalone in Milan, Samsung sought the 2×4 Studio. The installation focused on how the kitchen of the home is like the hearth of everyday life.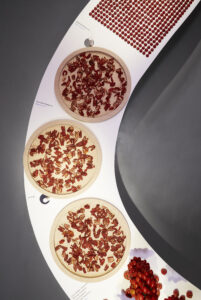 Using three abstract kitchens, 24hr Kitchen illustrates the central fixture of the counter in three different environments: morning, afternoon and night. A single kitchen counter links all three spaces, twisting and winding through the environment, emblazoned with words like taste, dream and celebrate. Inside each space–each room–is a clock that counts from 12 to 24, an abstract communication of the times in which we as human beings eat.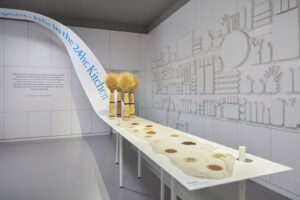 The morning display featured breads and wheats, a display put together by Laila Gohar. In the afternoon room, there are lots of tomatoes on display, in different forms. Finishing off a twelve hour day with hours nineteen through twenty-four, the display features common dessert items.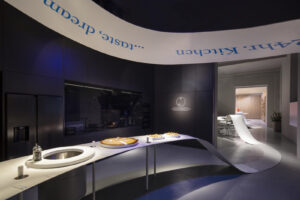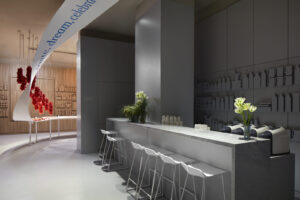 There were also two "reset areas"–the reset cafe and the reset bar–where the primary focus is the ribbon-like counters continuation into the next part of the day, a mimic of digestion or space between meals.
What's notable about this installation is the 3D, environmental application of staple design concepts: continuation, gestalt, juxtaposition, comparison/simile, to name a few. The counter serves as a consistent guide as viewers interact with three very different spaces, all with different lighting environments, surroundings and installations. The only other consistency is the clock, though it too changes as one navigates through the installation. This is a perfect example of creating both the illusion of movement and change, and consistency, in an elegant product.
Source: https://2×4.org/work/24-hr-kitchen/