Debbie Millman – 7Up Logo
In 1995, Debbie Millman was recruited by Sterling Brands (Heller, 2019). Sterling Brands, at the time, was a leading design firm. Debbie started in sales and then eventually worked her way up to being president of the company (Heller, 2019). One of her biggest projects while working with Sterling Brands was her work on the 7Up logo.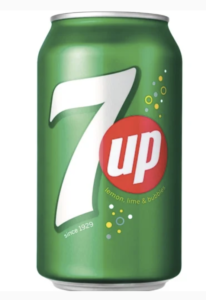 "As PepsiCo's third-largest global brand, 7Up had a look that was borderline clinical. The brand needed a redesign that would connect with a broader audience. The new global identity system embodies the new positioning around refreshment and flair, building on the brand's witty and lighthearted personality" (Heller, 2019). This design came out in 2014, and I personally think that it hits all of the points that the 7Up company was asking for in their redesign. According to Heller, this new design was meant to reach a broader audience. I think that kids would be drawn to this drink because of the colors, and the little bubbles surrounding the main logo. In addition to that, I find this design classic and I believe that people in the older generation would still be drawn to this drink. Like I stated in my Burger King post, I think that the younger generations (Gen Z and IGen) are drawn to "vintage" or "70s" looking items because that is what is stylish these days. I feel like this graphic design appeals to that generation (and older generations) while also still being modern and fresh. My favorite aspect of this design is the pop of red in the midst of the surrounding yellow-green coloring. I think when you look at the collection of the pieces that Debbie Millman has worked on, you can see her fresh and new take on designs while also holding true to the "old school" or original logos.
Sources:
Images and Information found at:
Steven Heller. (2019, March 25). Debbie Millman. The Professional Association for Design. https://www.aiga.org/medalist-debbie-millman