The Economist: Erik Spiekermann's 2001 Redesign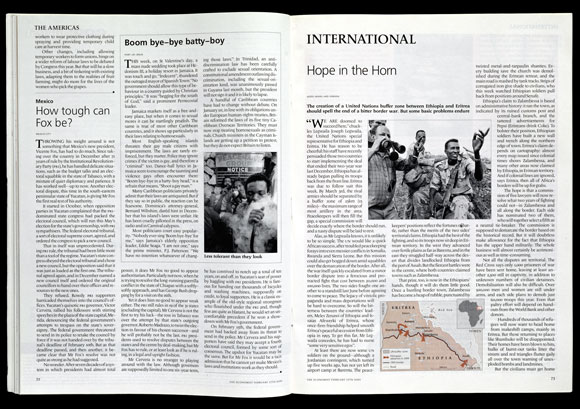 (Above: the old spread of The Economist)
Although The Economist was recently redesigned in 2018 by in house graphics experts Phil Kenny and Stephen Petch, Erik Spiekermann actually redesigned the publicationto be full color and to fit both physical and digital print spaces in 2001. Most magazines and newspapers undergo a "refresh" every seven years or so; however, Erik Spiekermann's contributions maintained style for over double that length. Although many of Kenny's and Petch's comments reference the older edition becoming "tired" and the design rules being no longer recognizable, the redesign was noteworthy and one of Spiekermann's greatest accomplishments (Franklin 2018). 
Spiekermann developed a partnership with The Economist Group upon forming the United Designers Network (UDN) in 2001, and the partnership is still active today (although UDN has since been rrenamed to edenspiekermann) (edenspiekermann 2019). One of the largest innovations was bringing the 175-year-old newspaper into color printing, along with defining their digital identity. Spiekermann is noted to have a self-described "limited color palette", and his work with The Economist is no exception, as his signature red, white, and defined containers make up the simplistic design. When Spiekermann rredesigned Ecotype (The Economist's typeface), despite font sizes becoming smaller, the type design made everything more readable and therefore more easily understood – something balanced between both print publications and the growing online space (Enasoni 2009). Spiekermann optimized other small features, such as utilizing ITC Officina Sans as the "information" face, for the growing number of graphs and maps that The Economist could now highlight with color-printing capabilities (Ballagh 2007). It is amazing that Spiekermann's work withstood the growth of news on the internet as long as it did; many similar news companies have gone through multiple identity makeovers in the time it took for Spiekermann's contributions to be removed. 
References:
Ballagh, T., & Spiekermann, E. (2007, January 22). ITC Officina Display. Spiekerblog. https://spiekermann.com/en/itc-officina-display/. 
edenspiekermann. (2019). Case Study: The Economist. Edenspiekermann. https://www.edenspiekermann.com/case-studies/the-economist/. 
Enasoni, L., & Spiekermann, E. (2009, June 19). Why The Economist is thriving. Spiekerblog. https://spiekermann.com/en/why-the-economist-is-thriving/. 
Franklin, B. (Ed.). (2018, October 19). How to redesign a 175-year-old newspaper. The Economist. https://medium.economist.com/how-to-redesign-a-175-year-old-newspaper-42c6d6479980.