Lance Wyman 1968 Summer Olympics Logo
This logo designed by Lance Wyman is the 1968 Summer Olympics logo. The 1968 Olympics took place in Mexico City and the this logo plays an important in Wyman's career as it is the key point that shows his time working in Mexico. I feel Wyman designing this logo was an important in his career as one it is designing the Olympic logo and I feel that would be important to anyone and around the time of him designing the logo he would design many major companies logos in Mexico. The logo helped fit the theme of how designs were during the 60s as they would look a lot like the logo just with neon lights instead of black lines, however, the main idea behind Wyman designing the logo was based on traditional forms of Mexican culture, but he also mixed it with the common op-art kinetic typography that was seen strongly in the 60s. The project was commissioned by the country of Mexico as they set it up for the logo to be a competition amongst several design teams and whoever had the best logo and also setup the best them for the Olympics would also get to set up and design everything for the Olympics from branding to the podiums. The main method of the design that was different besides using some of the traditional Mexican designs was the use of op-art kinetic typography. This type of typography is more known as moving text which you can see in another version of the logo which is shown below.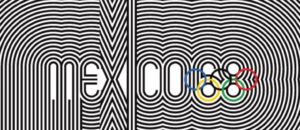 Works Cited
The Logo Smith. "1968 Mexico Olympics Logo and Brand Identity." The Logo Smith, 23 June 2020, imjustcreative.com/1968-mexico-olympics-logo/2019/04/03.