Kali Nikitas and Typo Berlin 2018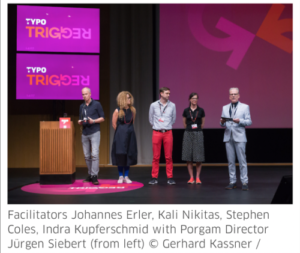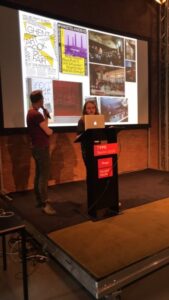 Images: ( Kali Nikitas, Curator of Moments)
Kali Nikitas lead Typo Berlin in 2018. Her studio and others participated in the inauguration of Typo Talent Talks. Typo conference is held every year and the conference has been hosted by many people. Typo Berlin explores the way design plays a role in shifting our world. This particular year they focused on kinetic typography and mechanisms that affect digital transformation. A typo is a three-day event full of presentations and discovery. Partners of the event are also creatives like Kali Nikitas.
Works Cited
Carter, Dom. "10 Reasons We're Looking Forward to TYPO Berlin 2018." Creative Bloq, 11 May 2018, www.creativebloq.com/news/10-reasons-were-looking-forward-to-typo-berlin-2018.
"Kali Nikitas on Lorraine Wild." AIGA | the Professional Association for Design, www.aiga.org/kali-nikitas-on-lorraine-wild. Accessed 15 Apr. 2021.
Kali Nikitas, Curator of Moments, knikitas.tumblr.com. Accessed 15 Apr. 2021.
"Kali Nikitas." Otis College of Art and Design, www.otis.edu/faculty/kali-nikitas. Accessed 15 Apr. 2021.