Vikings (2013)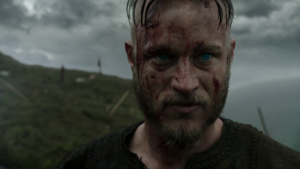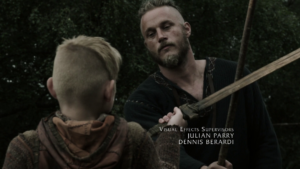 The visual performance of any show head can not be separated from the four elements of text, graphics, color, composition, and cut, and the study of these visual elements is of great value and significance to the design of show heads themselves and for the whole show. Take Vikings as an example.
The title of the show appears only at the beginning, and in just seven seconds or so, a huge wax block with only the TV show name appears quickly on the blackened screen and oozes thick blood, which gives the audience a surprising visual impact. This visual effect, produced in full 3D animation, conveys the show's theme and plot focus and perfectly highlights the character of the TV show, which is impressive.
Graphics is the key to connect the elements, graphics not only determines the overall visual effects of works but also affects the effective communication of information. The graphic design of the TV show title can quickly and accurately convey the TV show information A show head with a continuous dynamic plane, in the function of the transmission, is not suitable for the placement of a thought-provoking image part, but by the show head visual image to another level to feel the atmosphere and image itself.
Color in the show's primary function is to render the atmosphere and increase the mood, and the show director has strengthened this function. For the design of the show head, the director wants to convey the atmosphere or a certain idea to the audience, except for the image, text, shape, and arrangement, light and shadow color is the most influential visual element. The focus of color settings in the show head is to distinguish text from graphics. To express the essence of events; to enhance stimulative and dramatic tension, and to establish atmosphere. In addition, the hue, brightness, and saturation of every detail from clothing to background match the theme.