Star Wars (A New Hope) 1977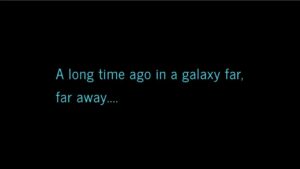 Star Wars is one of the most popular franchises to ever exist, spanning over a dozen movies, TV shows, and spin-off series. But it all starts with the iconic title sequence. It begins with  "A long time ago in a galaxy far, far away…" The blue font itself is unremarkable and sits in front of a black empty void. It is silent just long enough to read that introduction before a sudden loud blare of horns announces the title.
STAR WARS.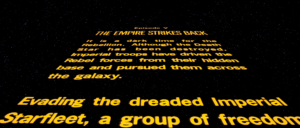 The sudden transition was intentionally done to grab the viewer's attention from what seems like a boring introductory scene. The iconic and catchy fanfare loudly accompanies the title as it jumps on the screen only to slowly pull back. The large capitalized font with the gold outline feels both large and empty, like the universe it inhabits. The font is very seventies, with large chunky letters that drag out horizontally. As the title fades it pulls back into to void, filling the screen with stars. This reinforces the idea that the viewer is traveling to a distant world far from our own. Then comes the iconic crawling text. Rising from the bottom, a wall of yellow gold text ascends towards the center of the screen, becoming smaller as it moves forward implying both the depth of field and the depth of the story we are about to see. We are told the backstory of the world before us so that the movie does not need to waste screen time explaining everything. The summary is just enough to inform the reader without bogging them down with details. Aside from story details, no actors or credits are within this intro. It is only preluded by a quick reference to George Lucas's company "Lucasfilms Limited". This intentionally pulls the viewer into the new world being created by the title and intro, letting them fully immerse themselves in the totally new world they are about to experience.